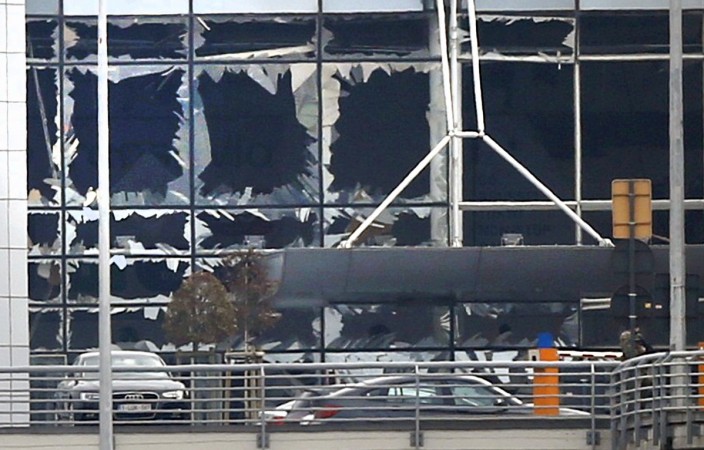 Nidhi Chaphekar, 42, the Jet Airways crew member whose photo taken moments after the terror attacks at the Brussels airport in March was published around the world, returned to the country on Friday. The mother of two, who was seen in the photo covered in blood and her clothes ripped off as she sat on an airport bench amid shattered glass, came to be known as the "face" of the Brussels attack.
Chaphekar was caught in the bomb blast at the Zaventem Airport in Brussels on March 22, the day the European capital was hit by its worst terror attack, including another blast at the Maelbeek metro station. Both the blasts left at least 35 people dead. While she escaped death, Chaphekar suffered injuries in the explosion, reportedly suffering 15 percent burns.
Chaphekar was being treated at the Grande Hospital de Chaleroi hospital in Belgium, where she had been placed in a medically-induced coma for nearly 25 days. She will now undergo further treatment at Breach Candy Hospital in Mumbai, as reported by Press Trust of India.
Chaphekar's iconic photo, taken by photojournalist Ketevan Kardava, was published by international publications following the Brussels blasts, with The Sun describing her as the "face of the terror attack." Foreign publications such as the New York Times and the Guardian had carried the photo on their front pages.
Chaphekar and her colleague Amit Motwani were left injured as they were on their way to board a Jet Airways flight. Motwani is still reportedly recovering at a hospital in Brussels.
"Welcome home, Nidhi. We're delighted to have you back!," Jet Airways tweeted on Friday.
Indian techie Raghavendran Ganeshan, an Infosys employee, was the lone Indian casualty in the Brussels attacks. He was killed while travelling in the metro when a suicide bomber detonated explosives at the Maelbeek metro station. The Islamic State group claimed responsibility for the attack.