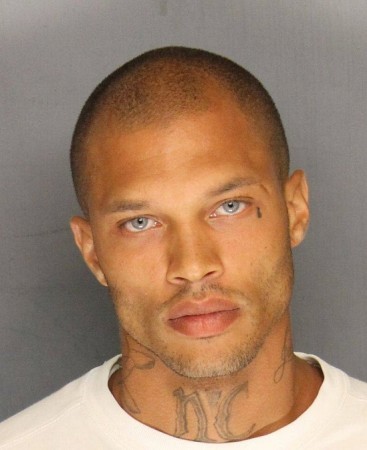 Jeremy Meeks' sexy mug shot has generated immense female fan following on the Internet. What has captured the interest of the females is Meeks' deep blue eyes and chiseled face. The mug shot has not only gone viral, but a slew of hilarious memes have taken over the web.
For those who are not aware, here are a few things to know about Meeks:
He got arrested on June 18 on the felony weapon charges. Meeks is apparently a member of infamous Crips Gang and has spent almost a decade in courtrooms. His handsome face may have made women go weak in their knees, but his criminal charges are the reflection of his bad reputation in the society, as per the reports.
He has served a two-year prison time in 2002 for a grand robbery and has various other allegations including fake identity and resisting arrest. Meeks also has teardrop tattoo on his face, which is a symbol of supporting gang killing, as reported by Hollywoodlife.
Meek is married and is a father to a kid.
On June 18, Meeks was arrested when police found a 9mm round of ammunition and a small stash of "what is being understood as" marijuana in his car's passenger compartment. An unregistered, loaded Springfield Armory .45 caliber semi-automatic handgun was also found in Meeks' possession as per the UK DailyMail report.
However, Meeks in an interview with USA Today has claimed that he is no longer associated with the gang.
"I just want them to know that this is really not me; I'm not some kingpin," he said
Meanwhile, Meeks' mugshot went widespread when it appeared on Stockton PD's Facebook page. The page described Meeks as "Jeremy Meeks, a 30 year old man, convicted felon, arrested for felony weapon charge."
After the photo came on the web, Meeks became a popular overnight, so much so that many females described him as the hot male model who they thought got arrested for good looks.
Here are some of the comments of his female fans on Stockton PD's Facebook page
"I actually thought He was a Male Model....Arrested for being TOO G*d D**n SIZZLING HOT lol," one admirer commented.
"He should be on Americas Next Top Model," another Facebook user suggested.
"Now I know where all the cute men are. And to all those negative females and males just because we think he is fine as h*ll don't men we are desperate we just ain't blind.HE IS FREAKIN GORGEOUS," one woman commented.
Meeks' mugshot has already received more than 29,000 likes, 2700 shares and 8900 comments.