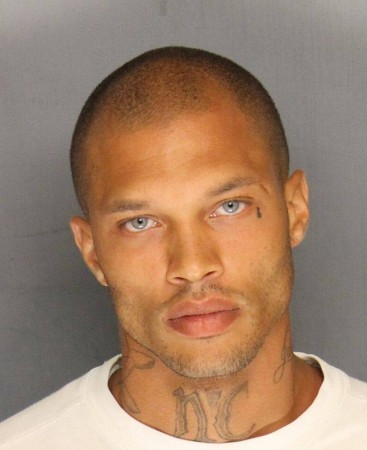 Reports claiming that "handsome" felon Jeremy Meeks, who became popular after his mugshot went viral, has been killed by his wife caused a sensation on social media. However, it now appears that it was false news.
The hoax first appeared on Huzlers, which is a satire website. According to the disclaimer on the website, "Huzlers.com is a combination of real shocking news and satire news to keep its visitors in a state of disbelief".
However, several social media users were shocked after reading the report about Meeks' death that went viral on Wednesday night.
"According to jail records, Jeremy Meek was released from jail just before midnight on Tuesday night. About an hour later, just before 1 am on Wednesday morning, Stockton Police found him laying in the road in the area of Dayton and West in Central Stockton. He was taken to Community Regional Medical Center where he died from his wounds shortly after arriving," claimed the hoax, which spelled Meeks' name incorrectly.
The report went on to say that Meeks and his wife Lashanda got into a bitter fight that ended with Meeks lying dead on the road with a knife and gunshot wound on his body.
It is reported that Lashanda was arrested a mile away from the crime scene, while trying to hide from the police. Apparently, a gun was also found in her possession.
The news, however, is false as Meeks is still in the San Joaquin County Prison and has been facing a host of charges, including 'street terrorism', according to Huffington Post.
The federal government has decided to charge the 30-year-old with 'felon possession of a firearm' and has dropped other charges. However, Meeks could end up in prison for next 10 years, with the charge.