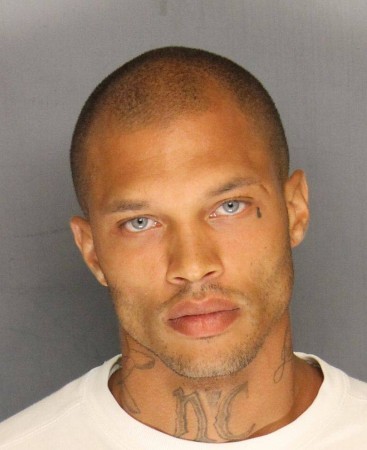 There's perhaps a good reason why they say 'love is blind'.
The old adage had been proved on Friday, when a love struck woman forgot everything else when faced with a brilliantly handsome mug shot of a Northern California man, who's high cheek bones, chiseled face and striking blue eyes shot a round of cupid's arrow on everyone seeing the picture online, inviting over 30,000 likes on Facebook within hours of the picture being posted.
For them, little did it matter that he was a felon, arrested on deadly charges.
30-year-old Jeremy Meeks was arrested Wednesday on five weapons charges and one gang charge, according to Stockton Police Department. Little did he know that only his photograph would make people forget his alleged crimes and start a campaign of sorts to release him.
Americans would perhaps be now forced to make sure they have high cheek bones, brilliant blue eyes and chiseled face before they commit any crime – else there will be no mercy!
"I am in love with a gangster LOL" commented a Stephanie Lopez.
"There is nothing wrong with admiring how handsome he is. Thanks Jeremy for making mug shots look sexy!!! Hope you get something out of this blowout and get to a better path in life period," was another comment from love-struck Stephanie R. Lovett.
Another individual with the name Betty Holmes said, "He should know his worth. He should be a model. Stop wasting time on crime."
Meanwhile, hashtag #FelonCrushFriday on Twitter has been inviting decent amount of posts and tweets with many creating funny memes and cracking jokes on what had happened.
As of early Saturday the Facebook photograph received more than 81,000 likes, 10,600 shares and over 23,000 comments – something that has never before happened in any of the images or comments posted by the Stockton Police Department.
Meanwhile, Meek's mother has started taking advantage of the enormous amount of public attention her son's 'handsome' looks has received and is raising funds for his legal defense creating a fundraising page.
Meeks was one of four men taken into custody during 'Operation Ceasefire', a multiagency mission to clamp down on the recent increase in shooting and robberies in the Weston Ranch Area of Stockton.
During the raids four firearms were confiscated from those four arrested, including Meeks.