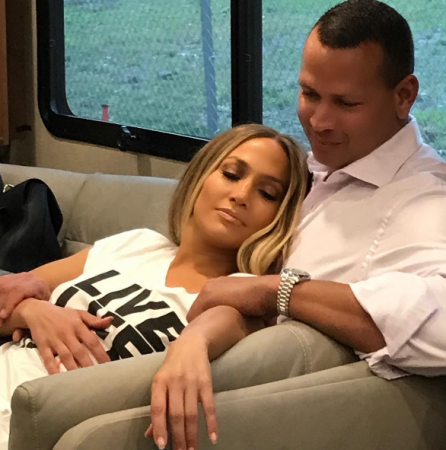 She sure isn't Maid in Manhattan. Jennifer Lopez looked stunning in white as she stepped out in Manhattan wearing a flattering white outfit that included a flowing robe and fur scarf.
Jennifer Lopez sure knows how to strut her stuff, even when she is out for a casual stroll. The "Jenny From The Block" singer didn't look like she stepped off the block looking elegant in a white keyhole jumpsuit that bared her cleavage along with a long matching robe-style coat that flowed in the wind.
She accessorized the dazzling outfit with a fur scarf (we're not sure if it was real or not) and a pair of stylish shades. It is being reported that the actress and singer has been doing a lot of press for her upcoming movie "Second Act."
She has been appearing on talk shows and a lot more to promote her new movie. In "Second Act", Jennifer stars alongside Milo Ventimiglia of "This Is Us." She plays a grocery store employee who fakes her background and credentials to land a big-time job.
Though the plot may be reminiscent of "Maid in Manhattan", where Lopez pretends to be a wealthy socialite instead of a chambermaid at a hotel, who charms Ralph Fiennes character."Second Act" looks like it will be leaning more towards the slapstick.
Truly stretching Jennifer Lopez's acting chops. It is being reported that Jennifer Lopez is currently dating Alex Rodriguez. A power couple if we ever saw one.
And from what we can see from the images, Lopez will have no trouble pulling off the role of a high powered executive. "Second Act" hits theatres on December 21.