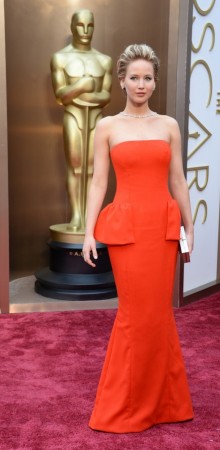 Following the publication of photographs showing Jennifer Lawrence looking downcast after a movie date with a gal pal, a number of reports claim that her sad demeanour might have something to do with her rumoured boyfriend Chris Martin.
Martin and his estranged wife Gwyneth Paltrow were seen enjoying a family dinner in Los Angeles on Tuesday night, and speculations are rife that JLaw might not be too happy with the former couple's close bond.
However, Paltrow has no issues with Martin's new ladylove, and she is said to be happy that he has found someone.
"Gwyneth is very happy for Chris, that he has moved on and found someone else," a source told E! News. "Their split has been remarkably amicable and they both just want the best for one another."
The source added that Paltrow can see why Lawrence is a good match for Martin, and she finds several similarities between herself and the "Hunger Games" actress. "Chris is very drawn to her personality and ambition and talent. There are actually some amazing similarities between Jennifer and Gwyneth," the source said.
In the meantime, Lawrence's relationship with Martin is heating up, and she has already introduced the Coldplay frontman to her mother. Her grandmother Carolyn Koch told The Sun: "Jennifer's mum flew to Los Angeles to meet Chris. We will have to get another chair for the dinner table at Christmas.
"The family is getting so big we might have to split up for gatherings," reported Daily Mail.
Martin and Lawrence have been dating since June, but it was only in August that news of the relationship started gaining traction. Since then, Lawrence has been seen hanging out with Martin at his Malibu property on multiple occasions. The rockstar was also spotted kissing the actress at a Kings of Leon concert in Hollywood recently.
Lawrence, who was previously dating Nicholas Hoult, is said to be completely infatuated with Martin, and in the November issue of Vanity Fair, the 24-year-old opened about her expectations from a relationship, saying she wanted to be with someone who "isn't afraid to fart in front of me [rather] than to have big, passionate love.
"I'd rather have just a peaceful time. [Those relationships] are deeper because you can be your true self with somebody, and somebody can be their true self with you."