Jennifer Aniston and Justin Theroux shocked everyone when they both announced earlier this year that they are ending their marriage for good. Ever since then, the former couple has dedicated their time in doing different projects. A new report, however, claimed that both Justin and Jennifer talk on a regular basis. The claims were soon debunked by Gossip Cop, which stated the couple's split "remains amicable."
After it was reported that both Jennifer Aniston and Justin Theroux are going to have an "uncomfortable reunion," a recent report has surfaced that asserted that even after splitting, the former couple talk, text, and email each other.
An alleged insider told HollywoodLife that Friends TV show starlet thinks about her estranged husband a lot. In addition to this, the source added that despite what the former couple has been through, they are on "surprisingly good terms."
The insider adds, "Unlike the majority of celebrity couples who claim to have 'lovingly' separated and vow they're still friends, Jen and Justin actually did and they really are!"
The insider went on to note that Jennifer Aniston and Justin Theroux are not at that stage where they plan to spend some quality time together with each other but there are chances of it happening in near future.
"Their break-up really was pretty amicable, there was no third party involved, no scandal, no screaming fights where they said terrible things to each other that can never be taken back, and they still respect and like each other as people," the alleged source further explained.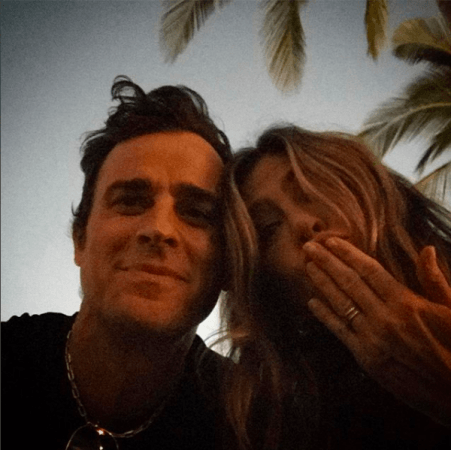 In addition to this, the source added that Jennifer stills thinks of Justin a lot and even send him a photo of something that will make him laugh.
"Jen still thinks about Justin a lot, pretty much every day she sees something that she thinks he would find funny, and she'll often send Justin a photo or an anecdote that she knows will make him laugh. They really were a great couple, and they complimented each other perfectly. It's super sad that it didn't work out between them romantically in the end, but they both hope to be able to build on their friendship and remain close in a platonic way."
However, Gossip Cop debunked HollywoodLife's claims and noted that it was Justin Theroux who stated in his recent interview that he and Jennifer had a gentle separation. The fact-checking website also remarked that Jennifer Aniston and Justin Theroux do not talk, despite the report.