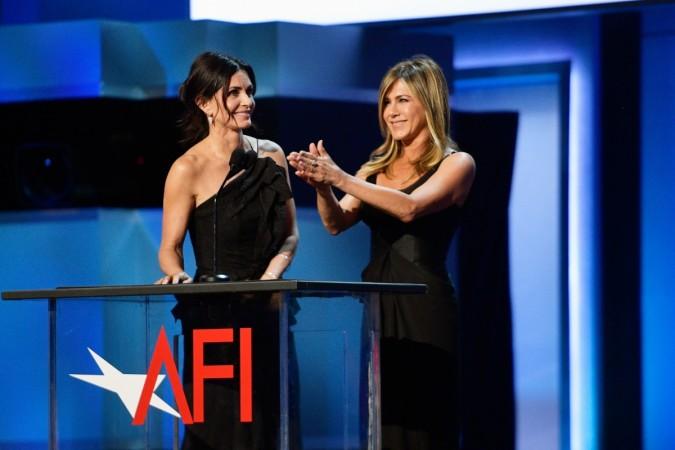 Every time the TV sings "I'll be there for you," fans of the hit sitcom Friends set aside everything that they're doing to catch an already watched episode of the American show. Although it has been well over a decade since the show aired its last episode aired, fans are still hung up on the series.
In a new interview, Friends alum Jennifer Aniston revealed that she is still very much in love with the show and hopes that the show gets a reboot.
"Before that show ended, people were asking if we were coming back. Courteney [Cox] and Lisa [Kudrow] and I talk about it," she told pal Molly McNearney for the InStyle magazine interview. The actress played the iconic Rachel Green on the NBC show for 10 seasons.
"I fantasize about it. It really was the greatest job I ever had. I don't know what it would look like today, but you never know. So many shows are being successfully rebooted," she added.
While Aniston understands that the whole cast cannot come on board for the reboot, she does have an interesting idea for the women of the show to reunite.
"I know Matt LeBlanc doesn't want to be asked that question anymore. But maybe we could talk him into it. Or we just give it some time and then Lisa, Courteney, and I could reboot The Golden Girls and spend our last years together on wicker furniture," she suggested.
Fans got a glimpse of the idea back in 2014 with McNearney's husband Jimmy Kimmel recreated the set of Monica's apartment for an episode on his show.
While she is interested in an all-women reboot, Aniston also revealed that she has been treated the worse by women in the industry. "I've been treated worse verbally and energetically by some women in this industry," she said adding that men have not been kind either. "I've definitely had some sloppy moves made on me by other actors. I handled it by walking away. I've never had anyone in a position of power make me feel uncomfortable and leverage that over me."
"I've definitely had my fair share of sexism in the media," she said. She also aimed at the tabloids who had misconceptions about her failed marriages and being childless.
"The misconceptions are 'Jen can't keep a man,' and 'Jen refuses to have a baby because she's selfish and committed to her career.' Or that I'm sad and heartbroken. First, with all due respect, I'm not heartbroken," the 49-year-old said.
"And second, those are reckless assumptions. No one knows what's going on behind closed doors. No one considers how sensitive that might be for my partner and me. They don't know what I've been through medically or emotionally. There is a pressure on women to be mothers, and if they are not, then they're deemed damaged goods. Maybe my purpose on this planet isn't to procreate. Maybe I have other things I'm supposed to do?" she added.