Jennifer Aniston is dating again after splitting with Justin Theroux, it has been claimed. A tabloid is stating that the Friends star has been secretly dating Leonardo DiCaprio.
According to NW, Aniston struck a relationship with the Titanic star after being introduced by Brad Pitt. Adding on, the 49-year-old actress had attended DiCaprio's 44th birthday party in Los Angeles earlier this month.
An alleged source said: "Leo must have been very convincing to get her to come along – no doubt he made her feel very special. He has this flirty knack of making women feel like they're the only girl in the world when he's pursuing someone."
"Brad was a little surprised she went to his party... [but he] began to connect the dots [and realized] that they've been hanging out since he introduced them," the insider added
"But he can't be mad. He's never wanted anything but the best for Jen. Brad thinks that they have all the makings of a great match," the source went on.
However, this report was debunked by Gossip Cop and revealed there is no truth to it.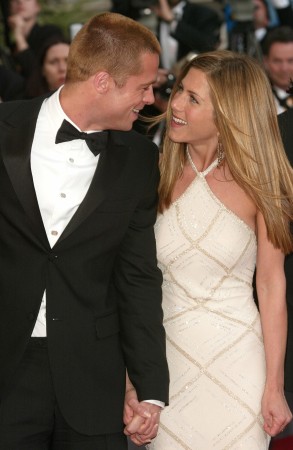 Aniston and Pitt were married from 2000 to 2005. But they both moved on after the divorce.
The 54-year-old actor married Angelina Jolie and the Just Go with It star tied the knot with Theroux. Unfortunately, they split up with their respective partners eventually.
Recently, rumours have been swirling that Pitt and Aniston are getting back together — perhaps even remarried. It appears, however, that there's no truth to those rumours.
Aniston gained worldwide fame after being cast as Rachel Green in the popular sitcom Friends in 1994. After the show ended in 2004, she focused more on film, making appearances in movies like He's Just Not That Into You in 2009, Horrible Bosses in 2011 and Horrible Bosses 2 in 2014.