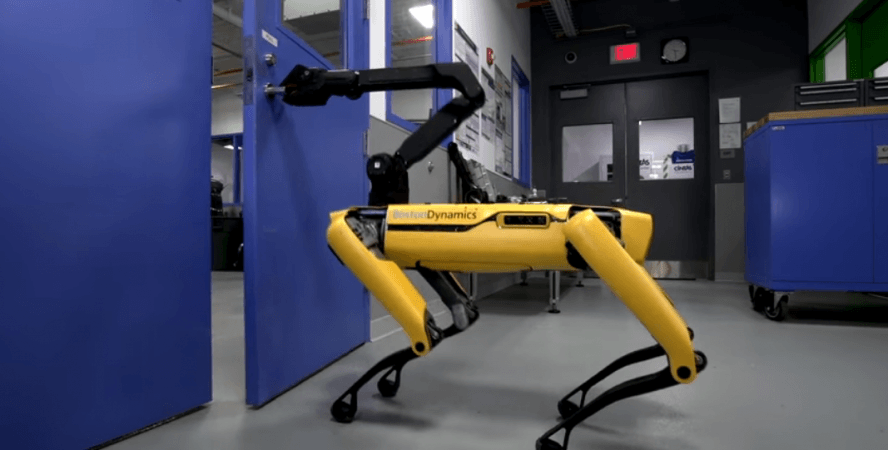 Amazon founder and the world's richest man Jeff Bezos takes his robot dog for a walk at Amazon's annual MARS robotics conference in Palm Springs, California.
Many might remember the video of Boston Dynamics' robotic dog opening a door which went viral and many marveled at the company's achievement. The same robot dog SpotMini was taken out for a walk by Bezos and it looked like a scene straight out of a science-fiction movie.
People already have digital assistants and with the way things are going, it seems man's canine friend might soon be available in the form of robots.
Twitter users went berserk after witnessing Bezos with the robotic dog. Here's how people reacted:
What an adorable little one!!!

— MyTreeHouse (@House1Tree) March 19, 2018
In a parallel robot world the tweet would be "taking the richest man in the world for a walk".

— Gokul Dinesh (@meGDinesh) March 19, 2018
Awwwwww, the dog looks happier than your employees ❤

— Peter Brodersen (@peterbrodersen) March 19, 2018
This is two weeks after Alexa laughed maniacally. Why do I find this unsettling?

— Casey Williams (@SciFiClimateGuy) March 19, 2018
I don't care if they eventually kill us all if it can get me same day delivery tbh

— Comfortably Smug (@ComfortablySmug) March 19, 2018
The invitation-only MARS conference is to showcase new technologies such as robots and drones. Apart from SpotMini, there are also reports of Bezos playing beer pong with another robot at the conference, according to videos that have surfaced on Twitter.
Last year at MARS conference, Bezos pulled a robot stunt by piloting a 13-foot-tall mechanical robot built by a South Korean company known as Hankook Mirae. The insanely tall robot appeared to be nothing less than a real-life Transformer.