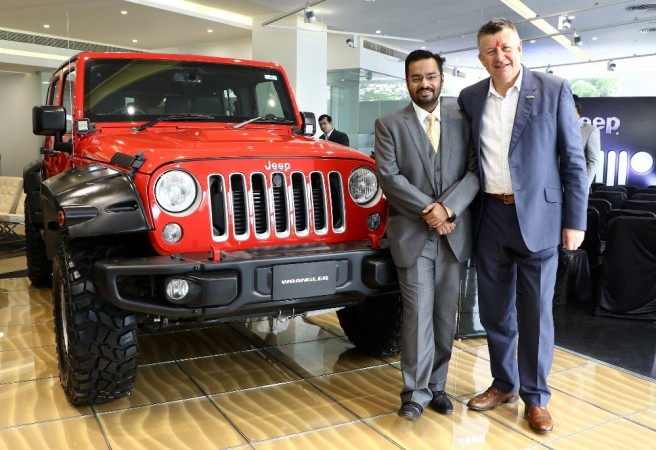 American iconic utility vehicle specialist Jeep has opened its first dealership in the country in Ahmedabad, Gujarat. Fiat Chrysler Automobiles (FCA) India calls Jeep dealerships as destination stores and the Ahmedabad unit is run by Concept Motorcar Pvt. Ltd.
The 7,500 square-feet Ahmedabad destination store is located on the ground floor of Ganesh Meredian at the Gandhinagar highway. The destination store is complemented by a 12,000 square-feet workshop facility located in Taluka Sanand.
"We have been noting the growing interest around the Jeep brand among customers in Ahmedabad. Many have been contacting us, inquiring about bookings and deliveries of the iconic Jeep Wrangler and the Jeep Grand Cherokee, and I am pleased to be able to deliver to their enthusiasm today, with the launch of our first Jeep Destination Store in this fast-growing metropolis," said Kevin Flynn, president and managing director of FCA, in a statement.
As a part of its retail operations, FCA will also focus on off-roading experience of customers in Gujarat with an aim to introduce off road versions of Jeep products -- Wrangler Unlimited and Grand Cherokee.
FCA is planning to open 10 other destination stores by the end of the year. Shortly after Ahmedabad, Jeep destination stores will go live in New Delhi, Chennai, Mumbai, Hyderabad, Chandigarh, Kochi and Bengaluru.
FCA introduced the Jeep brand in India in the beginning of this month. The company has priced the Grand Cherokee SRT at Rs. 11,207,825, Grand Cherokee Summit at Rs. 10,339,919, Wrangler Unlimited at Rs. 7,159,104 and Grand Cherokee Unlimited at Rs. 9,364,527, ex-showroom Delhi.