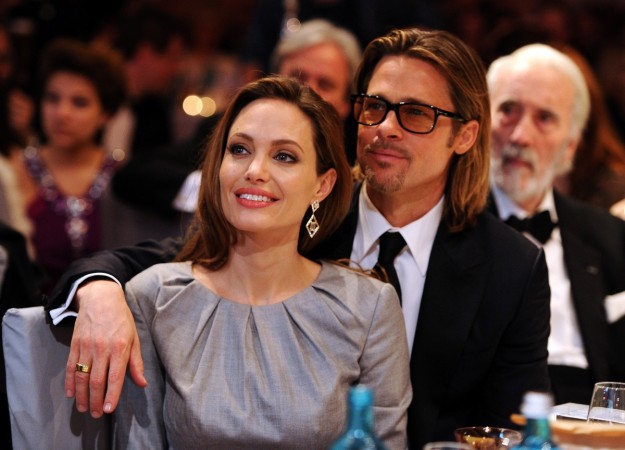 It has been over a year Angelina Jolie filed for a divorce from her husband Brad Pitt. Since then, the couple has expressed how difficult it has been for them to move on.
Addressing their separation, Jolie revealed she would cry in the bathroom so that her children wouldn't see. She also revealed that her health deteriorated since the breakup. But despite being the person who called off the relationship, rumours suggest that she is not done with her estranged husband just yet.
Also Read: Brad Pitt SNUBS Angelina Jolie's invite to spend Halloween 2017 with children?
Days after it was reported that Pitt has moved on from Jolie and found his new love in Ella Purnell, a report claiming that the actress is looking for dirt on the Allied actor's life.
Insiders close to the now separated couple inform Celebrity Insider that Jolie has been "digging and snooping to get dirt on her estranged husband". According to the website, the actress has been reaching out to her mutual friends to find out what is going on his life.
Apparently, she is trying to find out details about his dating life and figuring out the new friends in Pitt's life. The reason behind Jolie's interest, the site claims, is the growing rumours about Pitt's dating life in tabloids.
Since the actor is being associated to "several Hollywood bombshells," Jolie seems to be keen on clarifying these reports herself. The source claims, "[Jolie] knows Brad's ready to start dating again. She is very competitive and hates the idea of him beating her to the punch. [Jolie] hates the idea of 'losing' to him. She has started forcing herself to open her eyes and look around, and a few guys have caught her eye."
However, a different set of sources have come out to debunk the rumours claiming that Jolie is not involving in any kind of "digging." An insider close to Jolie told Gossip Cop that Jolie is not sneaking around to find out dirt on Pitt.
It has also been clarified that the "information" given to Celebrity Insider was originally given to Hollywood Life when the website reported about Jolie going crazy over the news that Pitt is ready to date. So there is no actual source confirming that Jolie is out to get some dirt on Pitt.