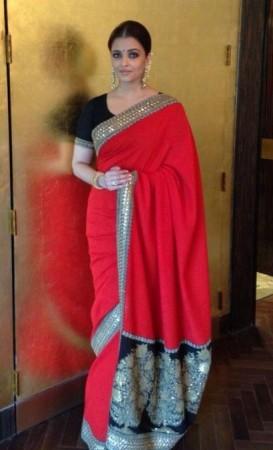 After almost a decade, Aishwarya Rai Bachchan will team up with veteran actor Anupam Kher for her comeback film "Jazbaa".
Bachchan and Kher last worked together in "The Mistress of Spices" (2005) directed by Paul Mayeda Berges.
Director Sanjay Gupta told DNA that he has signed Kher for a pivotal role in his upcoming film. Gupta also said that he would be working with Kher after 19 years.
"It's a role only Anupam can play. I had worked with him 19 years ago in the second film of my career Ram Shastra. After that there was no solid opportunity to direct him. So I am really looking forward to working with him again. Incidentally, we had launched Anupam's son Sikandar as a leading man in Woodstock Villa," Gupta told DNA.
Along with Kher and Bachchan, Gupta has also signed in Irrfan Khan and John Abraham for "Jazbaa".
In an interview with The Times of India, Gupta confirmed the three lead characters – Bachchan, Khan and Abraham – and also revealed the plot of the action thriller.
He said that "Jazbaa" is the official remake of a foreign film, but did not reveal the film's name. However, going by the plot details, it looks like a remake of the South Korean crime thriller "Seven Days".
The story of "Seven Days" revolves around four characters like "Jazbaa". The lead actress Yunjin Kim plays the role of a lawyer in "Seven Days" and so does Bachchan in "Jazbaa".
Actor Park Hee-soon plays the role of a suspended cop in the Korean film. Khan also portrays the same character in "Jazbaa".
In "Seven Days" the third important character is played by an actor who is a criminal, in "Jazbaa" Abraham is doing a cameo and will be reportedly seen playing the role of a gangster.
The fourth important character is being played by an actress, but Gupta is yet to finalise on that character.