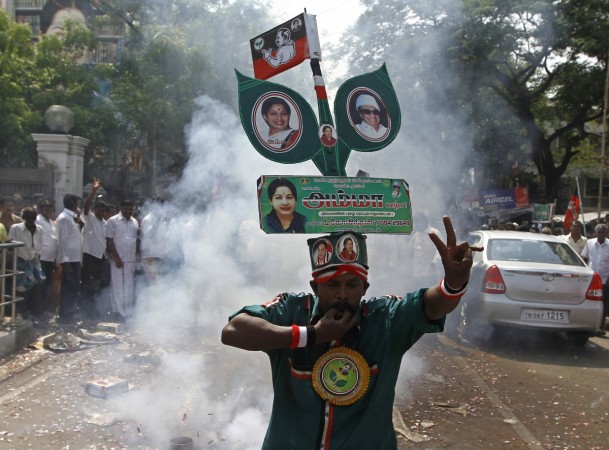 The Karnataka High Court on Monday acquitted former Tamil Nadu Chief Minister J Jayalalithaa in the ₹66 crore disproportionate assets case, in which she was earlier sentenced to four years in jail along with a fine of ₹100 crore.
Reacting to the high court verdict, Jayalalithaa termed it a "a victory for justice, defeat for those who had conspired to defame and malign my legacy and the legacy of my mentor MGR".
"I don't take it as a victory for me but a victory for truth & victory for people of Tamil Nadu. I thank people of Tamil Nadu for reposing faith in me and I thank God for the gift of people's love," the AIADMK chief said in a statement.
Slamming the opposition party, she said, "DMK didn't win electorally so they tried to put an end to my career through other ways, finally justice has prevailed."
Expressing her gratitude to her supporters and party workers, Jayalalithaa said, "I recall with sorrow the demise of 233 party cadres who lost their lives after special court delivered its verdict on my sentence."
Supporters celebrate Amma's win
Eariler, soon after Justice CR Kumaraswamy acquitted the AIADMK chief in the 19-year-old case, Jayalalithaa's supporters burst into celebrations outside her residence and the party office in Chennai. Her followers in Bengaluru hailed the judgement as a massive victory for Amma.
Jayalalithaa's political career was put on hold for 10 years following her conviction by a special Bengaluru court on 27 September, 2014. Jayalalithaa had to resign as the Chief Minister of Tamil Nadu and hand over the state's reins to her loyalist O Panneerselvam.
The actress-turned-politician now seems all set to return as the Chief Minister after the huge relief she got from the Karnataka HC.
Case against Jayalalithaa couldn't be proved so she has been let off: B Kumar, Jayalalithaa's lawyer #JayaVerdict pic.twitter.com/NRoEt0TR9V

— ANI (@ANI_news) May 11, 2015
Will Jayalalithaa replace Panneerselvam as TN CM?
Now, either Panneerselvam is expected to hand over the position to Jayalalithaa or the latter will contest a by-election to regain the Chief Minister's seat as she did in 2002 after being acquitted in a criminal case.
Charged with criminal offences, Jayalalithaa had been sentenced to five years in jail by a Chennai court, following which even the Supreme Court had ruled against her appointment as Chief Minister in September 2001. She had then handed over the Chief Ministerialship to Panneerselvam after resigning.
However, when Jayalalithaa returned to politics after being acquitted by the Madras High Court in 2002, she contested by-election from Andipatti assembly constituency, which she won with a high margin and was sworn in as Tamil Nadu's Chief Minister once again.
Similary, she can again return to politics unless prosecution files a petition seeking stay on Jayalalithaa's acquittal.
Prosecuting authority may file a petition and put a stay on this acquittal: GS Mani (lawyer) on #JayaVerdict pic.twitter.com/Jl6rmpmhOG

— ANI (@ANI_news) May 11, 2015
Read More: Jayalalithaa Verdict LIVE News: Karnataka High Court Acquits Amms; No Restrictions of her Becoming CM

Delhi: AIADMK MPs in parliament raise slogans celebrating Jaya's aquittal,, distribute sweets after #JayaVerdict pic.twitter.com/EK0VMLEy6z — ANI (@ANI_news) May 11, 2015
AIADMK MPS in parliament are distributing sweets after Jaya aquittal #JayaVerdict — ANI (@ANI_news) May 11, 2015
Celebrations outside Jayalalithaa's residence, Jayalalithaa's supporters dance and burst crackers #JayaVerdict pic.twitter.com/xh7xuy5ek7 — ANI (@ANI_news) May 11, 2015
Jayalalithaa's supporters outside her Poes garden home ahead of crucial verdict @the_hindu #JayaVerdict pic.twitter.com/32Z807nPDS — Meera Srinivasan (@Meerasrini) May 11, 2015
Jayalalithaa's supporter bathes her poster with milk, lies prostrate in front of the poster #JayaVerdict pic.twitter.com/QdJE8OXHfk

— ANI (@ANI_news) May 11, 2015