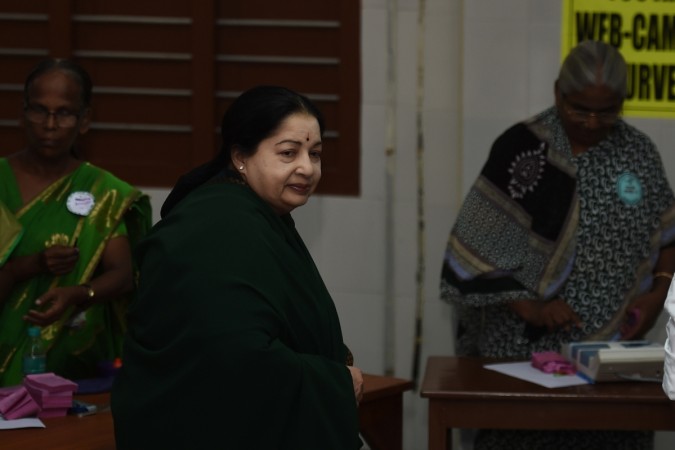 Speculations around Tamil Nadu Chief Minister and All India Anna Dravida Munnetra Kazhagam (AIADMK) supremo Jayalalithaa's health have been rife ever since she was hospitalised 10 days ago. Though it is not unseen for a personality with thousands of supporters in politics, it appears the over-enthusiasm has gone beyond comfort in this case.
So much has been talked about Jayalalithaa, 68, ever since she was admitted to Apollo Hospitals in Chennai on September 22 for fever and dehydration. Rumours around her health condition have been doing the rounds. Chennai police IT Wing filed an FIR against a woman in connection with spreading rumours about the CM's health on social media, but that hasn't stopped the hype.
Interestingly, DMK president M Karunanidhi (Jayalalithaa's political rival) had also asked the state government to put an end to all the rumours around the CM's health by releasing an official statement along with her photographs.
That was not all. A social activist named K R Ramaswamy filed a public interest litigation (PIL) in the Madras High Court seeking a detailed report of the CM's health condition from the state government. He also sought to release photographs of her meeting with her cabinet ministers in the hospital as claimed by the AIADMK earlier. Now the court has directed the government to submit a report on the health of Amma, citing that people are anxious to know.
All these happen despite the hospital authorities releasing regular bulletins on Jayalalithaa's health. [READ: Jayalalithaa's health update and timeline]
"The treatment plan, including appropriate antibiotics, respiratory support and other allied clinical measures are presently being continued to treat the infection," said a statement released by Apollo Hospitals on Monday.
The hospital authorities have said that Dr. Richard Beale was flown in from London on September 30 to treat the CM and that a team of doctors is monitoring her health. The latest bulletin (dated October 4) said that her health has improved, but has been advised for further stay in the hospital for treatment.
Is Jayalalithaa's health update provided by the hospital on a regular basis not enough? Do people really need to know every detail of her health condition and her photographs? It would be better if her well-wishers respect Amma's privacy until she is back in good health and assumes the office.