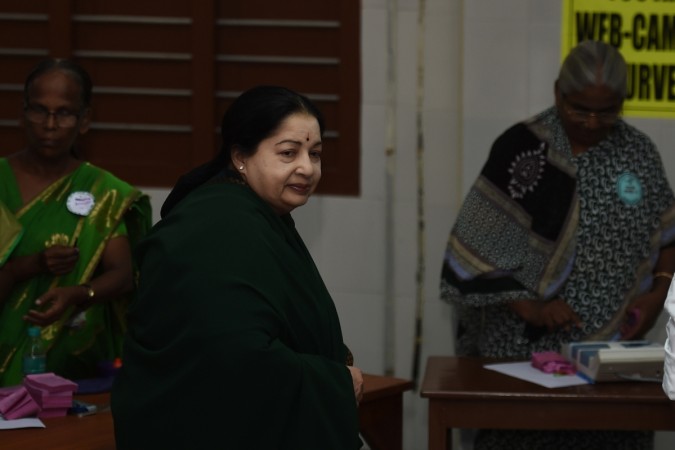 Tamil Nadu Chief Minister and All India Anna Dravida Munnetra Kazhagam (AIADMK) supremo Jayalalithaa has been in news for all the wrong reasons of late -- her bad health.
The CM, who is fondly called "Amma" by her fans, has been undergoing treatment at Apollo Hospitals in Chennai for almost 10 days now, but not much has been known about her condition accept a couple of bulletins from the hospital and occasional comments from party members. This has created anxiety among her supporters and public.
Jayalalithaa, 68, was admitted to Apollo Hospitals on September 22 for fever and dehydration.
The CM faced a similar situation in July last year when she had to skipp an Iftar party citing sudden illness.
Here is Jayalalithaa's health update and timeline since her hospitalisation last month:
September 22: Jayalalithaa was admitted to Apollo Hospitals in Chennai with fever and dehydration. The hospital said in a statement that she was stable and under observation.
September 23: "Puratchi Thalaivi Amma is well and taking normal diet - Apollo hospital," AIADMK said in a tweet.
September 23: Prime Minister Narendra Modi sent a flower bouquet and a letter to Jayalalitha wishing her a speedy recovery.
September 25: Apollo Hospitals rubbished rumours on social media that the CM would be taken abroad for treatment. It said that she would be discharged from the hospital in a few days.
"There have been rumours and conjectures circulated falsely in the social media about Honourable Chief Minister's health condition, stating that she will be taken abroad for treatment. These are totally false and baseless," said the statement from the hospital.
"There is no question of taking the Honourable Chief Minister abroad for treatment, as there is no necessity at all for this. The Honourable Chief Minister will be discharged from the hospital in a few days and will soon resume her normal official duties [sic]," it added.
September 27: The CM resumed her official duties from the hospital. AIADMK tweeted that she convened a meeting between 4.30 pm and 5.30 pm at Apollo Hospitals on the interim directions issued by the Supreme Court on Cauvery River water issue with Karnataka.
September 29: AIADMK tweeted Apollo Hospitals' statement saying Amma responded well to the treatment, but has been advised to stay a few more days in the hospital for treatment.
September 30: Dravida Munnetra Kazhagam (DMK) president Karunanidhi demanded that the state government put an end to all the rumours around Jayalalithaa's health through a clear official statement along with her photographs.
"As I had already mentioned, though I differ with her ideologically, it is my desire that she recovers soon and takes up official duties as usual," Karunanidhi said in a statement. "Some persons are spreading unwanted rumours about her health on the social media and to put an end to these, proper information about the Chief Minister's health must be made available to the people," he added.
September 30: AIADMK tweeted that Chennai Police had filed an FIR against a woman in connection with spreading of false rumours about Amma's health. The police took up the action based on a complaint from AIADMK. However, the identity of the woman was not made public.
October 1: AIADMK said that Jayalalithaa is recovering well and could be discharged soon, but refused to release her photographs as demanded by DMK president M Karunanidhi.
It is reported that the CM is being treated by Dr Richard John Beale, a specialist flown in from England.
October 1: Tamil Nadu Governor C Vidyasagar Rao visted Jayalalithaa at Apollo Hospitals, Chennai on Saturday evening. It came a day after DMK president M Karunanidhi lamented that neither union ministers nor Tamil Nadu governor had visted the CM.
October 2: The Apollo Hospitals has said in a statement that Dr. Richard Beale, who was flown in from London on September 30, had a detailed discussion with the expert group of doctors treating the CM. They concluded that she continue the present medication to treat the infection. They went on to say that she was responding well to the treatment but has been advised to stay in the hospital for a few more days.
October 3: "Honourable CM is recovering well, No restrictions for public to enter second floor where Puratchi Thalaivi Amma is admitted [sic]" - Thirumavalavan, tweeted AIADMK.