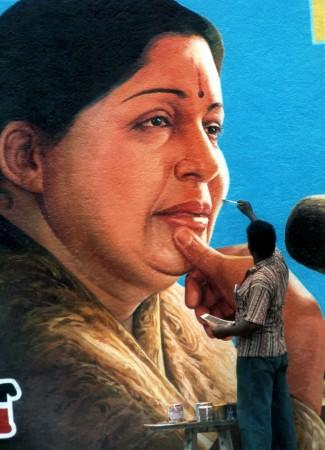 Former Tamil Nadu Chief Minister J Jayalalithaa's conviction and bail plea rejection have put the citizens of Tamil Nadu in a state of shock resulting in the death of 154 people, claims All India Anna Dravida Munnetra Kazhagam (AIADMK).
Tamil Nadu's ruling party AIADMK have put together the number of deaths in the state, after Jayalalithaa was sentenced to four years in jail in a disproportionate asset case on 27 September. While many have died of cardiac arrest, some of them committed suicide as they could not bear the shock of seeing their "Amma" being sent behind bars for committing a crime.
An AIADMK member, who preferred to remain anonymous, revealed that according to the data collected by the party, 113 people across Tamil Nadu suffered heart attack due to Jayalalithaa's conviction, while 41 committed suicide in one or the other way, PTI reported.
The data listed 14 people who self-immolated, while 15 hanged themselves. Seven are said to have consumed poison and one died by jumping before a bus. Two people jumped before a train to commit suicide and two others jumped into a river and drowned to death, said the party member.
The state has been facing turmoil and violence since Amma's conviction and it persisted until Tuesday, when Karnataka High Court rejected her bail plea. The city went berserk at the High Court's verdict and grieved for their Amma. Additionally, posters were also put up across Chennai threatening to hold Kannadigas as hostage until she is released.
The data collected by AIADMK contains the name and adress of the deceased, the party claimed.
However, the situation was brought under control by the city police, and incumbent Chief Minister O Panneerselvam reportedly requested the citizens to maintain calm for the sake of their Amma.