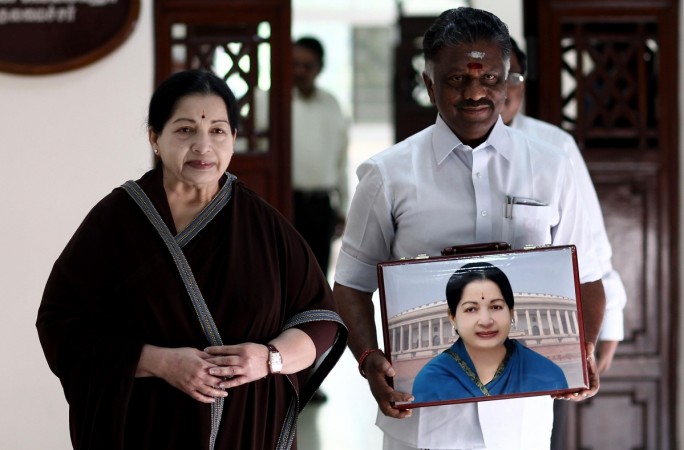 5.45 pm: Jayalalithaa has arrived in Chennai to chants of 'Amma, Amma' as thousands of supporters wait to greet her.
3.21 pm: Jayalalithaa has left the Parappana Agrahara Jail in Bangalore. She will head to the HAL airport to take a flight to Chennai, where her supporters will reportedly form a human chain to welcome her.
"Jayalalithaa has left the jail a few minutes ago after completing the formalities," Karnataka Inspector General of Prisons (IGP) K.V. Gagandeep told IANS.
Jayalalithaa will take a charter plane. Security has been stepped up outside the Chennai airport, where 200 policemen have been deployed.
12.40 pm: Jayalalithaa is expected to walk out of jail at around 3.30pm on Saturday. A special convoy has been readied at Bangalore aiport, as per reports.
The special court has issued release orders for Jayalalithaa and others, after a surety of ₹2 crore was agreed upon, as reported by Press Trust of India.

According to reports, Jayalalithaa will step out after 3.30 pm in keeping with her belief that the time between 1.30 pm and 3.30 pm is inauspicious.
She has appealed to her supporters to not criticize the court's judgment and to maintain law and order.
"I appeal to my beloved Tamils, my supporters and my party men not to criticise judgments or the judges who delivered them or the court proceedings, which will bring disrepute to the judiciary or make allegations against any one," she had said on Friday, as reported by Bangalore Mirror.
12.30 pm: Tamil Nadu Chief Minister O. Panneerselvam has arrived at the Parappana Agrahara Jail in Bangalore.
12.25 pm: The Karnataka government has reportedly readied a helipad near the Bangalore jail for former Tamil Nadu chief minister J Jayalalithaa to travel to Chennai, as reported by Hindustan Times. Jayalalithaa is, however, yet to make a decision on how she wishes to travel back home.
12.15 pm: Tight security has been set up around the jail and along Hosur Road. Prohibitory orders are in place around the jail premises. An additional 1,000 personnel have been deployed to maintain law and order as supporters and party workers of the AIADMK chief have flocked to the city.
"We are prohibiting assembling of five or more people one kilometre around the prison for security reasons and to prevent any untoward incident. The ban order will be in force till Jayalalithaa leaves the jail premises," joint commissioner of police Alok Kumar was quoted as saying by Hindustan Times.
AIADMK chief J Jayalalithaa is set to walk out of the Bangalore Parappana Agrahara Central Prison, where she has been lodged since her conviction in the disproportionate assets case on 27 September.
Tamil Nadu Chief Minister O Panneerselvam is likely to greet Jayalalithaa, prisoner number 7402, when she walks out of the jail on Saturday, most likely in the afternoon after the formalities are completed.
Warned by the Supreme Court to ensure her party members not to create law and order problems, Jayalalithaa released a statement on Friday evening. "I request all to maintain peace, law and order and not give anyone a chance to criticise," she said in the statement, as reported by NDTV.
Security has been stepped up around the jail and along Hosur Road on Karnataka-Tamil Nadu border.
Jayalalithaa was granted bail by the Supreme Court on Friday, which has asked her to file the paperbook of her appeal within two months.
"For the present, we suspend the sentence and direct that the petitioners, J. Jayalalithaa, N. Sasikala, V.N. Sudhakaran, and J. Elasvarasi be released on bail on executing a bond with two solvent sureties by each of them to the satisfaction of the trial court at Bangalore," the Supreme Court Bench headed by Chief Justice H.L. Dattu, Justice Madan B. Lokur and Justice A.K.Sikri, said on Friday, as reported by IANS.
The bail came on the 43rd anniversary of the AIADMK party. Party workers and supporters have reportedly planned events at Jayalalithaa's Poes Garden residence to welcome her.