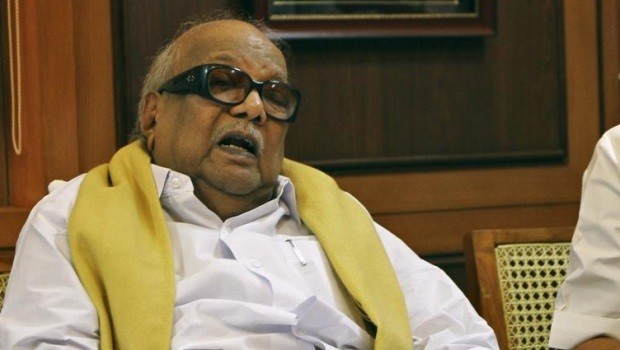 The Dravida Munnetra Kazhagam (DMK) on Monday said that the Tamil Nadu government lacks "proper direction" with their leader, Chief Minister Jayalalithaa, still admitted in Apollo Hospital in Chennai. The party requested the state governor and the central government to take appropriate action.
DMK Chief M Karunanidhi, with reference to the Cauvery water row, said that Karnataka was "least bothered" about abiding by the orders of the Supreme Court to release water to Tamil Nadu even as aggrieved farmers in the state were watching what the SC and the central and state governments had to say on the issue.
"It is everybody's opinion that the state government is lacking direction because the chief minister is in hospital. Though no all-party meeting or cabinet meeting or special Assembly session had been held on behalf of the AIADMK government, all parties in Tamil Nadu are united in supporting the demands of farmers... Since Ministers or the Chief Secretary are not prepared to take any steps in very important matters like the Cauvery issue without consulting the Chief Minister since she is in hospital, there is a passive situation in Tamil Nadu," Karunanidhi said in a letter to his party workers.
The DMK chief added that political leaders have been raising several issues and that "the government stand on these must be informed after taking decisions on them," the Press Trust of India reported.
"It is the wish of people of the state that the Centre or Tamil Nadu governor (Ch Vidyasgar Rao) should decide and immediately take action. Till the time Chief Minister Jayalalithaa resumes work after recovering, appropriate legal steps should be taken to implement the essential needs of the people of Tamil Nadu," Karunanidhi further added.
The DMK chief lashed out at the centre for changing its stand on the Cauvery issue.
DMK Treasurer MK Stalin had called for the AIADMK government to appoint an interim chief minister till Jayalalithaa returned.