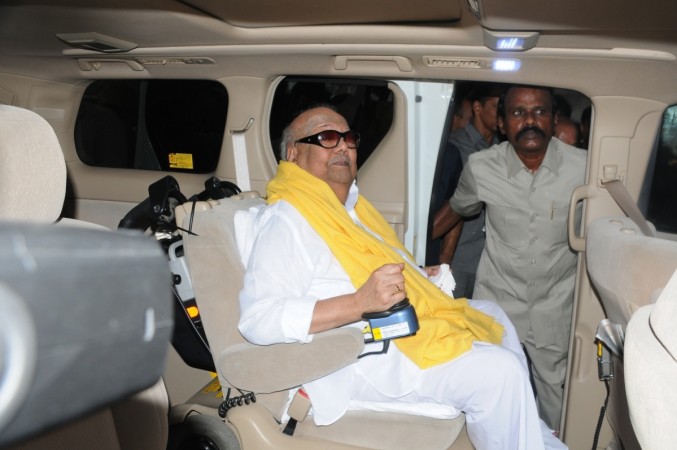 Dravida Munnetra Kazhagam (DMK) leader M Karunanidhi has raised questions over Tamil Nadu Chief Minister J Jayalalithaa signing the document that resulted in the handing over of her portfolios to O Panneeerselvam, pointing to reports that no one is being allowed near the All India Anna Dravida Munnetra Kazhagam (AIADMK) chief.
It may be mentioned here that former AIADMK leader and Rajya Sabha member Sasikala Pushpa had raised a similar bogey earlier by writing to state Governor C Vidyasagar Rao expressing apprehension that someone might commit fraud in order to seize power. She had said in her letter: "It is feared that some people around TAMIL NADU CHIEF MINISTER, now hospitalized may forge her signature to nominate a deputy general secretary to AIADMK and to run the Government also. [sic]"
Karunandihi's questions come in light of an official communique from the state government that said on Tuesday: "Under Clause(3) of Article 166 of the Constitution of India, His Excellency the Governor of Tamil Nadu today allocated the subjects hirtherto dealt with by Hon'ble Chief Minister Selvi J Jayalalithaa, to Thiru O Panneerselvam Ministor for Finance, Personnel and Administrative Reforms. [sic]"
To this, the DMK chief and former chief minister of the state said: "It's surprising to know that the chief minister has advised the governor to reallocate the portfolios held by her to O Pannerselvam and has signed the advisory at a time when there are reports that no one is being allowed to meet her at the hospital." He also cited Sasikala Pushpa's letter to buttress his point.
Indeed, many top leaders cutting across party lines have visited Jayalalithaa in hospital, but have reportedly not met her. Even Congress vice-president Rahul Gandhi had to be content with meeting the doctors who were treating the TN chief minister and being briefed by them on the treatment regimen she was undergoing.