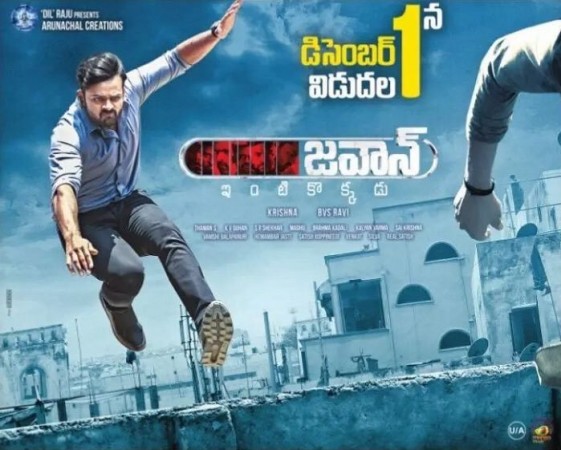 Director BVS Ravi's Telugu movie Jawaan (also known as Jawan: Intikokkadu) starring Sai Dharam Tej, Mehreen Pirzada and Prasanna, has received a good response from viewers.
In Pics: Jawaan movie launch | Movie Poster | Press Meet
Jawaan is an action thriller film produced by Krishna under the banner Arunachal Creations. BVS Ravi has written the script for the film in collaboration with Kalyan Varma Dandu, Sai Krishna and Vamsi Balapanuri. The movie has beengiven U/A certification with a runtime is 2.14 hours.
Jawaan movie story: Jai is an ordinary middle-class guy caught up between protecting his family and the nation.
The movie is all about how he reacts when he faces a challenging situation like this.
Analysis: BVS Ravi has chosen an interesting story, which has been explored a couple of times. He has made it entertaining and engaging with action, romance, family sentiments, heavy-duty dialogues and patriotic elements, say moviegoers.
Performances: Sai Dharam Tej has delivered an electifying performance, along with some amazing action and dialogue-delivery. Mehreen Pirzada has done her best, and her glamour and chemistry are assets of the film. Prasanna, Satyam Rajesh and Kota Srinivasa Rao have also done justice to their roles, say viewers.
Technical: Jawaan has brilliant production values. S Thaman's songs and background score, KV Guhan's cinematography and brilliant choreography action and chase scenes are the attractions on the technical front, say filmgoers.
Jawaan movie review live updates: We bring you some audiences' verdict on the film. Continue to read viewers response.
Janaki Vamsi: What a wonderful movie is #Jawaan ! The director @BvsRavi did a great job of portraying the film. Every scene in the movie made me get Goosebumps. I love the way they showed about RSS. I hope @BvsRavi will make such good films in future. #JaiHind #Jawaan #bestmovieexperiences
Phanindra Tumpala: @BvsRavi Completed watching #Jawaan 2nd tym What a Screenplay man thank u for presenting our @IamSaiDharamTej In such a patroitic way @MusicThaman One Of biggest Asset for the film Ni sound solid ga vinapaduthundi @Mehreenpirzada Golden leg...overal Bomma Adirindi
Nymisha Reddy: #Jawaan -nice storyline, but predictable.@IamSaiDharamTej jii is at his best.Big cinemas lo title card padetappudu #SaiDharamTej name ragane aa arupulu,whistles abbabbba@MusicThaman BGM ki goosebumps anthe.BGM is one of major asset for film. #Jawaan -EXPECT chesinatha ledabba.
Ajith: #Jawaan A racy screenplay with Terrific Acting by @IamSaiDharamTej , undoubtedly one of his carrier best !! @MusicThaman bhaiya BGM vinadanike inkokasari chudochum , pulse raising BGM ! @BvsRavi sir adhiri pointhi cinema anthe , supero super ! @Prasanna_actor Act no word's
Khannan: Hai Bro i say #Jawaan movie wow wonderfull performance and today i say Konchem Touch Lo Unte Chepta . Nice play superb . All the best for your future flims .@IamSaiDharamTej
SKN‏: #Jawaan is perfect comeback vehicle of Supreme hero @IamSaiDharamTej he grown up as actor many levels. @BvsRavi delivers gripping film with out deveating from the plot , @MusicThaman did a tremendous job @Mehreenpirzada is hot#Jawaan ll bring cheers at B.O in winter season
Gopichand Malineni: #Jawaan @MusicThaman has given fantastic BGM ..@BvsRavi made the film sleek n racy @Prasanna_actor was commercial hit for tejuuu#Jawaan ..gud attempt..very nice &honest film ..congratulations..@IamSaiDharamTej done fab @BvsRavi n team
Rustum Kalyan: Except climax decent 2nd half, @IamSaiDharamTej's Dhruva is #Jawaan
Srinivas Vadlamudi‏: #Jawaan Just done watching this one here in US. I shook my head when I heard 'Banda Toofan'. @IamSaiDharamTej @Mehreenpirzada @BvsRavi
Watch Jawaan movie theatrical trailer here: