The wannabe Indian two-wheeler aficionados' love for retro models once resurrected Royal Enfield in India. Now, that same undying passion for the retro is turning out as Enfield's biggest challenge in the country.
On Wednesday, shares in Eicher Motors, which makes Royal Enfield bikes in India, sank as much as 7.5 percent on poor sales numbers in December.
Enfield had defied the odds to become the favourite bike in town and country alike, giving bouts of fright to two-wheeler makers focused on lean, mean and less costly machines that offered greater value for money. Often the rivalry resulted in hilarious ambush advertising.
Yet Enfield's joyride went on uninterrupted. Until this December, that is. The company said on Tuesday sales in December dropped more than 13 percent to 58,278 units, down from 66,968 in the same period the previous year.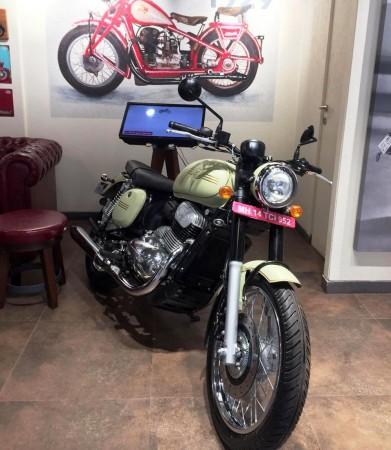 The drop came after direct rival Jawa Motorcycles advanced with the launch of three cult brands in India after a gap of decades. In November, Enfield had seen a drop of 4 percent in sales. The blow in December was heavier, after Mahindra & Mahindra's subsidiary Classic Legends Pvt. Ltd offered pre-booking for the Jawa models that ooze nostalgia and a rich legacy.
Classic Legends is offering two classic-styled bikes named Jawa and Forty Two along with a bobber model christened, the Perak. The Forty Two costs Rs 1.55 lakh, Jawa Rs 1.64 lakh and the Perak comes with a price tag of Rs 1.89 lakh (all prices ex-showroom Delhi).
Jawa Motorcycles has opened two dealerships in the country and plans are afoot to open more than 100. By March 2019, the bikemaker plans to take the dealership count to 125 serving 25 states and three union territories.
Stiffening challenge
Analysts have said the challenge from Jawa will inflict continued damage to Enfield. "This weakness in demand might continue in near future, considering the substantial increase in cost of ownership (insurance, rear disc brake and ABS related) and Jawa has emerged as a reasonable alternative for potential RE customers," Motilal Oswal said in a research note," according to the LiveMint.
The fact that Jawa has burnt Enfield's tent it obvious from the sales data for December. While domestic sales sank as much as 14 percent, export numbers for Royal Enfield remained robust. Clearly the brand is facing an India challenge from Jawa.
Eicher Motors shares were down 7.5 percent intraday at Rs 21,455 on the NSE.