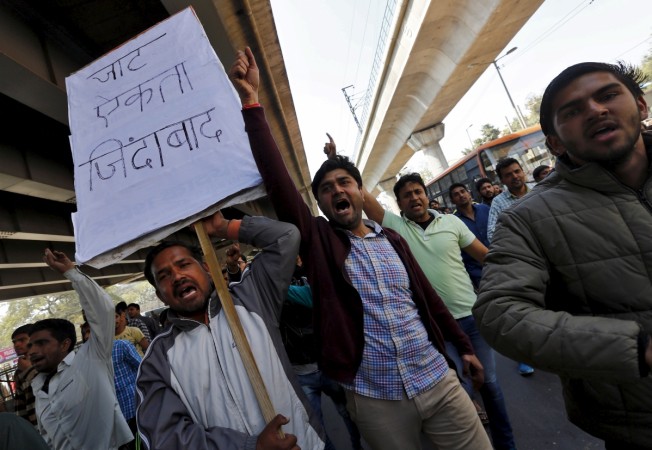 At least 15 people have reportedly died and 150 injured in violent protests for reservation for Jats that led to a virtual lockdown in Haryana last week. With almost 850 trains delayed or cancelled, and businesses shut for more than three days, losses have been pegged at $2.9 billion by Reuters.
On Monday, fresh violence broke out as protesters set fire to a freight train in Sonepat in spite of the state government agreeing to the community's demands for greater reservation. The government had agreed to introduce a bill in the Assembly to put the Jats in the Special Backward Class (SBC) category. The Jat leaders reportedly said they want to see the details of the provisions that would be available to them, according to NDTV.
"We will continue the protests. The government thinks we will succumb to their pressure tactics but they are making a big mistake by ignoring us," Ramesh Dalal, convener of the Jat Arakshan Andolan, told Reuters. "Jats are determined to win the battle. They had to send the Army to control our anger but even they have failed."
Meanwhile, water supply was restored to Delhi from the Munak Canal as the Army took control and the National Highway-1 was opened for traffic, reported The Indian Express. The supply was expected to reach Delhi by Monday evening, reports ZEE News. Schools in the national capital have been shut Monday due to acute water shortage in the city.
Hearing a PIL asking the Supreme Court to step in to take stock of the breakdown in law and order in the BJP-ruled state, the apex court was quoted by ANI as saying: "Matters like these should be left for the government to handle and the leaders should take stock of the situation."
Meanwhile, some blockades in Haryana were lifted Monday. However, schools and colleges remained closed in multiple districts of the state.
The Rohtak bypass, ANI reports, has been blockaded by protesters again at Delhi-Bahadurgarh border chowk.
The nine-day long protests turned violent Friday as agitators set fire to a state Cabinet minister's home and shoot-at-sight orders were issued to the police. The Army was deployed in the state, but was unable to quell the disruption. Assurance from political leaders of the ruling BJP helped dissipate the violence to an extent, but protesters reportedly took to violence again Monday.