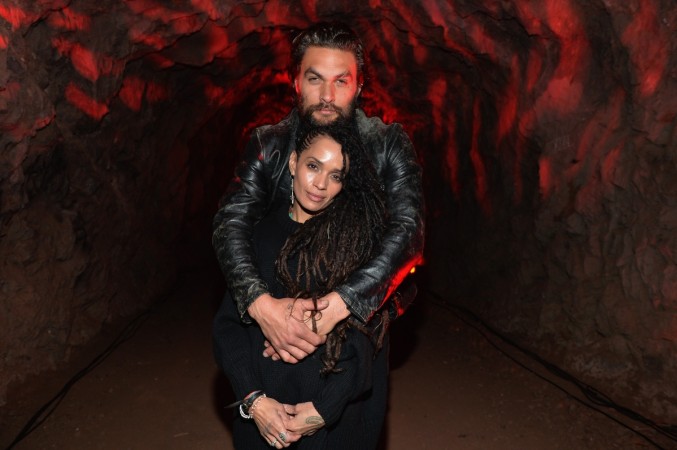 Congratulations! Jason Momoa married his long-time girlfriend Lisa Bonet last month in an intimate ceremony. But weren't they already married? Apparently not! Although they have been together for over a decade and were believed to have married two and half years after they began dating, there weren't really married until last month, US Weekly reveals.
The couple, who are parents to three children, announced their vows at a huge ceremony in Topanga, California and there was a big party, insiders revealed.
Also Read: Justice League: Jason Momoa as Batman? Zack Snyder did not audition him for Aquaman
"Jason Momoa and Lisa Bonet had an official wedding a few weeks ago at their house in Topanga, California. Apparently, they weren't officially married until then! They said they 'made it official,'" a source confirmed.
Their wedding date could be speculated to be either October 9 or 10 as the US-based website reports that the couple purchased a marriage license from the Los Angeles County Registrar-Recorder/County Clerk's office on October 2, just one week before the ceremony.
According to onlookers, Bonet's daughter Zoë Kravitz, whom she shares with ex-husband Lenny Kravitz, Alicia Vikander, Michael Fassbender, famed rock climber Chris Sharma and several of Momoa's former costars attended the wedding. "It was a big party and people came from out of town to attend," the insider revealed.
A Facebook user also shared that he saw his friend's post from the Momoa-Bonet wedding. In the photos, the Justice League star was seen flaunting his abs in an unbuttoned white shirt and a lei. He tied his hair up into a man bun. Bonet stood beautifully next to him as the ceremony took place.
It is also reported that some of the couple's guests performed a traditional Māori haka for the bride.
The Aquaman star met his Aqua-goddess back in 2005 after he developed a crush for Bonet when he first saw her on The Cosby Show. Soon after they began dating, the couple had their first child, daughter Lola Iolani in 2007. It was believed to have married soon after but it wasn't official. They went on to have a son named Nakoa-Wolf.
"Lisa and Jason decided to make it official after years together," a source told Entertainment Tonight. Although it was unofficial, Momoa still referred to Bonet as his wife in interviews over the past few years.