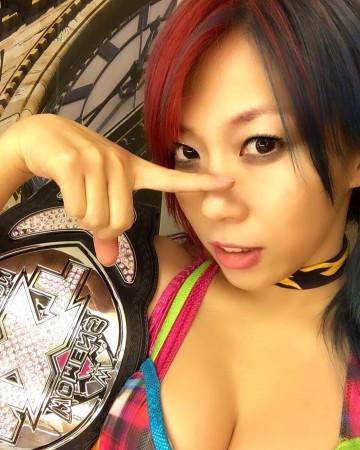 Not many WWE fans might be aware of the 1.6m tall female Japanese pro-wrestling sensation, known as Asuka; real pro-wrestling aficionados, however, are . Asuka, 35, is already regarded as the greatest female pro wrestlers, ever.
She has just beaten the greatest pro wrestling streak of 173 wins, recorded by the WWE veteran Goldberg, back in his WCW days. Even the legendary Undertaker, who has one of the greatest winning streaks in the WrestleMania, comes nowhere to Asuka's unbelievable 177 wins in the WWE, lately.
Strange part is she is yet to debut in the WWE main roster. Asuka has earned her jawdropping winning streak only via NXT and WWE live events. However, we feel that once she loses her NXT women's championship, she will make her BIG debut on either Raw or SmackDown.
But....taking the title from her right now, looks simply impossible!
Several pro wrestling critics have even called her one of the greatest in the sports entertainment business, both male and female wrestlers combined.
So, who is Asuka?
Real name: Kanako Urai
Ring name: The Empress of Tomorrow
Born: September 26, 1981 in Osaka, Japan
Pro Wrestling debut: 2004
Promotions competed in: AtoZ Wrestling, Ice Ribbon, JWP Joshi Puroresu, NEO Japan Ladies Pro Wrestling, Pro Wrestling Wave, Pro Wrestling Zero1, Smash, Shimmer Women Athletes, Wrestling New Classic, DDT Pro Wrestling, Reina Joshi Puroresu, All Japan Pro Wrestling, WWE
Signing with WWE in: August 2015
NXT debut: October 2015 (vs Dana Brooke)
Last fight: NXT Takeover: Chicago 2017 (May 20) - Asuka vs Nikki Cross vs Ruby Riot
Championships held:
Ironman Heavymetalweight Championship (5 times)
Wave Tag Team Championship (twice) – with Ayumi Kurihara and Mio Shirai
Smash Diva Championship (twice)
JWP Openweight Championship (once)
Kuzu Pro Diva Championship (once)
NEO Tag Team Championship (once) – with Nanae Takahashi
Reina World Tag Team Championship (once) – with Arisa Nakajima
Reina World Women's Championship (once)
NXT Women's Championship (current)