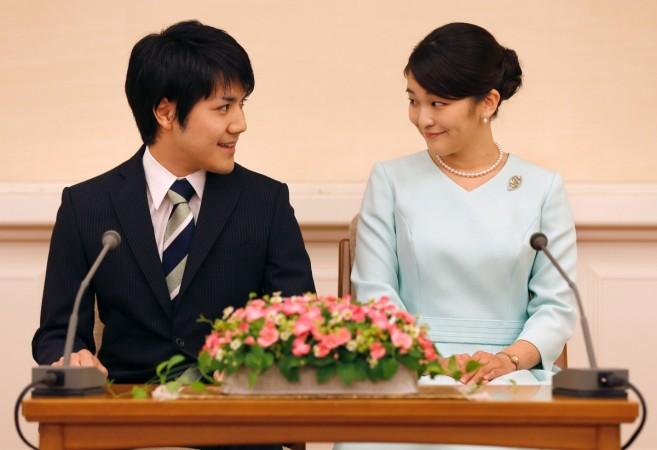 It is official! Princess Mako, the eldest grandchild of Emperor Akihito and Empress Michiko, will be tying the knot with her former classmate, Kei Komuro, from her university. The official announcement was made in a news conference on Sunday by the Imperial Household Agency.
Talking to the press, the couple gushed about their relationship by comparing it to that of the sun and moon. "I was first attracted to his bright smiles that seemed like the sun," she said. Komuro replied Princess Mako "has been quietly watching over me like the moon. I would like to have a family that is always calm and peaceful," he added.
Also Read: Who is Kei Komuro, Princess Mako's fiance?
The engagement announcement was supposed to be made on July 8. But due to the unfortunate torrential rain that flooded northern Kyushu that month, the royal family chose to postpone the announcement.
According to the Imperial House Law, Princess Mako, the elder daughter of Prince Akishino and Princess Kiko, will renounce her status as a member of the Imperial family to marry Komuro. Princess Mako is the first of the Imperial House's four grandchildren to get engaged.
Engagement details:
While the couple have officially announced their relationship, their engagement will become official only after a traditional rite of betrothal called Nosai no Gi takes place, Japan Times reports. According to the ceremonial rituals, "Komuro's messenger will visit the princess' Imperial residence with gifts to formally vow engagement," the Japanese website writes.
The couple will reportedly go through a series of rituals that will lead up to the wedding. One among the rituals will be the Kokki no Gi. In this ceremony, Komuro's messenger will announce the wedding date.
Wedding details:
The couple is expected to tie the knot in the same year Emperor Akihito will relinquish the throne. The relinquishment will most likely take place in December 2018, Japan Today reports. The wedding is likely to take place in fall next year.
Reports also suggest that the emperor might attend the wedding. If he does, he will become the first emperor to be a part of a grandchild's marriage ceremony in modern Japan. The Imperial family will witness the first wedding since 2014. The royal family last wedding ceremony saw Princess Noriko of the Imperial family marry Kunimaro Senge, the eldest son of the chief priest of Izumo Taisha, a Shinto shrine.
Following the wedding, Princess Mako is expected to continue her job as a researcher at a museum at the University of Tokyo.