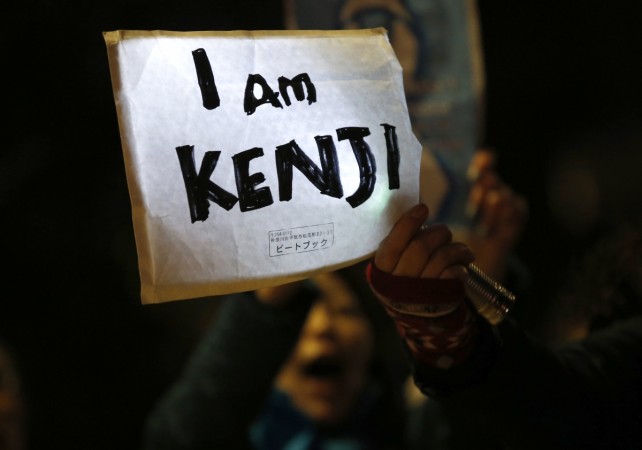 Japanese are using a paraphrased version of the 'I am Charlie' symbol of protest to express their solidarity with Kenji Goto – held hostage by the ISIS – with thousands joining the Facebook page 'I Am Kenji' even as the deadline for his execution nears.
Goto reportedly has only few hours to live, unless Jordan agrees to release Iraqi terrorist Sajida al-Rishawi in return for the Japanese journalist's life as demanded by the Islamic State (ISIS).
An alleged ISIS video that emerged on Tuesday threatened that Goto had only 24 hours to go before he is executed, if Jordan fails to respond to the group's demand.
As Japan grapples with the hostage crisis, Japanese are using the slogan 'I am Kenji' as a unifying call.
"We want Kenji to come home," Taku Nishimae, a Japanese filmmaker living in New York, told the Associated Press.
Nishimae, who personally knew Goto for almost 12 years, started the 'I am Kenji' Facebook page last week after the first ISIS video showing Goto and Haruna Yukawa emerged.
More than 30,000 people have 'liked' the Facebook page already, and several photos on the page show both Japanese and other people holding placards with the sign.
American Robert Campbell, a professor at the University of Tokyo, also put up a picture on the Facebook page.
"It's a small act that we can all do. It is important. You feel connected to other people. That's all very good," Campbell, 57, said.
The sign is a reference to the 'I am Charlie' slogan, an English translation of 'Je Suis Charlie', which had gone viral after the Charlie Hebdo shootings in Paris earlier this month.
"Let's show that we're united, and tell that it's unjust to kill innocent citizens and it's meaningless to turn entire nation against you," a message on the Facebook page read.
The slogan is not confined to the social media; hundreds of people used placards with the 'I am Kenji' message during a protest outside the prime minister's office.
Several Japanese had taken to social media last week to mock the Islamic State after they released the first video of the Japanese hostages.