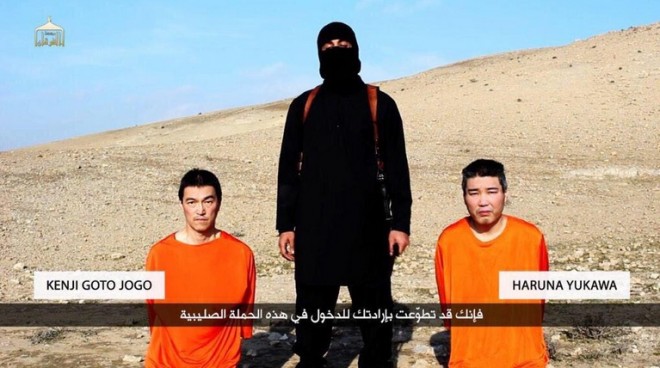 Even as Japan scrambles to reach a conclusion over the Islamic State's ultimatum to kill two Japanese hostages, the country's Internet users are taking to social media to mock the terror group.
ISIS released a video on Tuesday showing two Japanese men - Kenji Goto and Haruna Yukawa - whom they have threatened to kill in 72 hours unless Japan coughs up a ransom of $200 million.
The deadline comes to an end on Friday.
Many Japanese hit back at ISIS on social media with memes, while some even derided the group's social media tactics, pointing at tweets from pro-ISIS accounts, which used Japanese words while promoting the video.
Some of the Japanese words that ISIS-affiliate accounts tweeted while posting the video included 'Zuwaigani' (queen crab) and 'Daikan' (traditionally the coldest day of the year, which fell on Tuesday), according to The Japan Times.
"A tweet by an apparent Islamic State-related person looks totally funny as they attempt to use popular Japanese hashtags to gain access," one person tweeted.
Japanese criticised the Islamic State on Twitter with the hashtag, 'ISIS kusokora guranpuri' (ISIS crappy collage grand prix), sharing memes with photoshopped images of ISIS militants and stills from the video.
Many of these memes were published on Japanese website Kotaku, and comments over the memes ranged from appreciation of the use of humour for standing up to terror, to criticism for making light of a grave situation.
"The pictures are funny but to reiterate the article, the situation is not. I just hope that whatever the income is it isn't influenced by this," one comment read.
"This is the correct way to handle these numbskulls, bravo on the kids who came up with this," read another.
Some ISIS-linked Twitter accounts responded to the flood of memes with threatening tweets, with one saying - "Japanese people, you are so optimistic. We have army everywhere," according to The Japan Times, which also reported that its reporters' Twitter accounts were mentioned in several ISIS tweets.