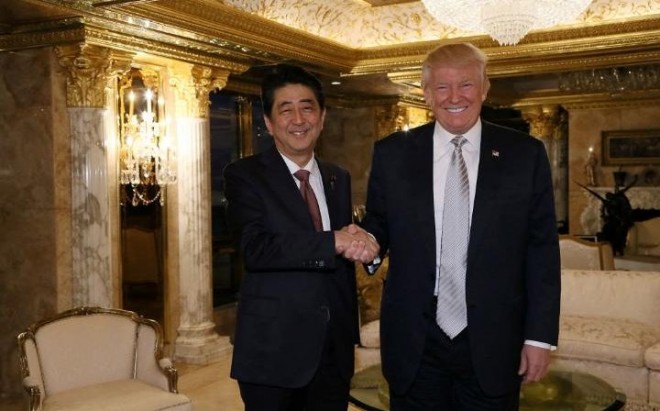 Japan ratified the Trans-Pacific Partnership, a free-trade pact between Pacific Rim countries, on Friday despite president-elect Donald Trump's intention of withdrawing from the pact. Trump had said that instead of the TPP, which took five years to make, he would negotiate bilateral trade deals.
Japan had earlier said that without the US the TPP would be meaningless. However, Japan ratifying the deal on Friday indicates that the TPP is still salvageable. The East Asian country's move came after Japan Prime Minister Shinzo Abe met president-elect Donald Trump on November 15.
Abe had called Trump a "trustworthy leader."
"The talks made me feel sure that we can build a relationship of trust," Abe told reporters after the meeting. "Alliances cannot function without trust. I am now confident that President-elect Trump is a trustworthy leader," Abe said.
He had said that the conversation had been "candid" and in a "warm atmosphere" indicating that Trump's hostility towards the TPP could be thawed. Trump had said earlier that he would ask Japan to pay for US troops on its soil.
There was a chance that Trump would change his mind, Taro Kono, a senior lawmaker of Abe's ruling Liberal Democratic Party, said.
At least six countries, which make up 85 percent of the combined gross domestic product, will have to ratify the project.
Trump's team had warned Barack Obama's administration against going forward with the TPP earlier, following which Obama withdrew. However, he did assure the partners in Cuba regarding the deal during an annual meet.
One of the key partners, New Zealand Prime Minister John Key, who has since resigned, had joked that it would be fine with him to rename the agreement Trump Pacific Partnership if that would convince the president-elect to get on board, media reported.