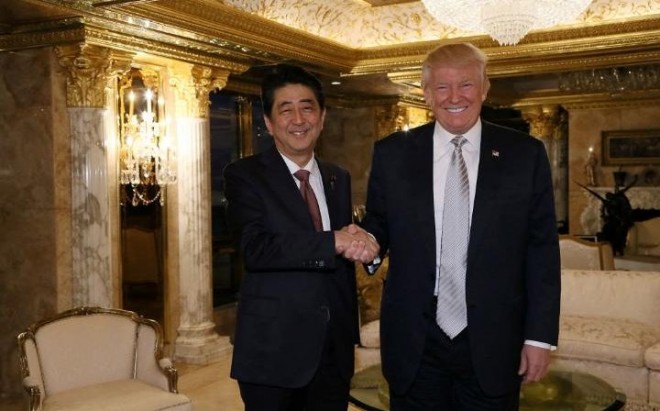 Japan's Prime Minister Shinzo Abe met the United States President-elect Donald Trump in New York on Thursday, calling him a "trustworthy leader."
Abe had made a short halt in New York to meet Trump before heading for an Asia-Pacific trade summit in Peru to get clarity on Trump's stance on the US-Japan alliance in the future. The 90-minute meeting was arranged at Trump Tower in Manhattan.
America is Japan's biggest ally, however, Trump during his presidential campaign had said that Japan would have to pay more to continue keeping US troops on its soil. He had also criticised the huge trade deal signed between US President Barack Obama with Japan and other Pacific Rim countries.
"The talks made me feel sure that we can build a relationship of trust," Abe told reporters after the meeting. However, since the conversation was unofficial, the Japanese leader did not disclose the details of their meeting.
"Alliances cannot function without trust. I am now confident that President-elect Trump is a trustworthy leader," Abe said.
He said that the talk held between the two leaders was "candid" and was organised in a "warm atmosphere." The Japanese leader also agreed to meet the US President-elect again "at a convenient time to cover a wider area in greater depth," according to Reuters.
Trump, during his campaign, had also said that America may be "better off" without its nuclear-armed Asian partners. The comment increased doubts about US' supplication of security to countries like Japan and South Korea.
Before departing for his trip, Abe had said, "The Japan-US alliance is the cornerstone of Japan's diplomacy and security. The alliance works only when there is trust. I'd like to build trust with Mr Trump and work together hand in hand for the peace and prosperity of the world."
The Japanese prime minister was accompanied by an interpreter while Trump was in the meeting with daughter Ivanka and son-in-law Jared Kushner. Retired Lieutenant General Michael Flynn was also present at the meeting.