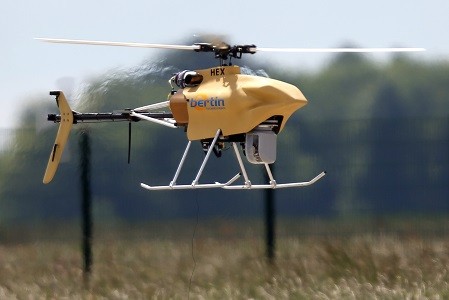 A drone equipped with a camera and a flare landed on the rooftop of Japanese Prime Minister Shinzo Abe's office on Wednesday, sparking security concerns.
The drone, said to be 50 centimeters (1.7 feet) in diameter, was fitted with a miniature camera and also carried a small water bottle and a flare.
It was marked with a 'radioactive sign', Reuters reported, in what could be a possible connection with a Japanese court's ruling on Wednesday to restart the Sendai nuclear power station.
Low level radiation was detected from the drone, Japan's Kyodo news agency reported.
An official found the drone at about 10.30 am local time. Abe is currently not in the country and is attending a Asia-Africa summit in Indonesia.
It is not clear who the drone belongs to. Japanese authorities have begun investigations.
The Kagoshima District Court on Wednesday allowed Kyushu Electric Power to restart the Sendai nuclear power station in June, even though the fears of the Fukushima disaster remain fresh in memory.
Only last week, a Japanese court had stopped the restart of the Takahama nuclear power plant on Japan's western coast.