It was safe to picture a Japanese locker room in tatters following their heartbreaking defeat to Belgium in Monday's Round of 16 tie in Rostov-on-Don.
After all, Akira Nishino's men were on the brink of sealing their first-ever World Cup quarter-final berth after they had a two-goal cushion at the hour mark. However, Belgium responded brilliantly under pressure and scored a last-minute winner destroying the hopes of Japan and their fans.
The Blue Samurai sunk to the ground and many of their stars, including Takashi Inui, were reduced to tears after Nacer Chadli's 94th-minute goal. Fans at the Rostov Arena went through a roller-coaster of emotions only to be gut-wrenched at the end of the five-goal thriller on Monday.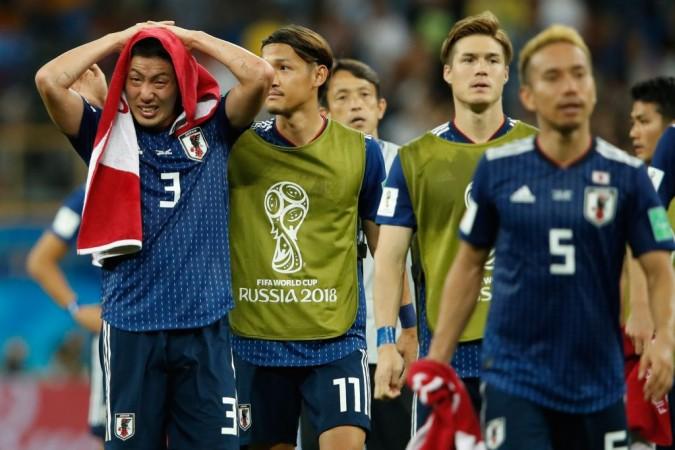 Despite the agony, Japanese players displayed a great sense of dignity as they had found time to clean up their locker room at the Rostov Arena. Photos circulating on social media show a spotless Japanese dressing room and a note with "thank you" written in Russian on one of the tables.
Japan was eliminated from the World Cup today in a game where they were leading 2-0. Despite their heartbreak they took the time to clean their bench and locker room leaving it perfectly clean. Thank you for being an example of pure class and I hope more take your lead. pic.twitter.com/NoDKascNie

— Walsh U. Soccer (@WalshU_Soccer) July 3, 2018
Fifa General Director Priscilla Janssens had even tweeted about the same while writing: "This is the Japanese dressing room after losing to Belgium in the 94' minute. Thanked their fans in the stadium, cleaned up everything (bench and dressing room) and spoke to media. Even left note with 'thank you' in Russian. What an example for all teams!! Privilege to work with!(sic)."
However, the said tweet was deleted by Priscilla earlier today. IBTimes, India is not able to verify the authenticity of the photograph.
Japanese fans set the benchmark at Russia World Cup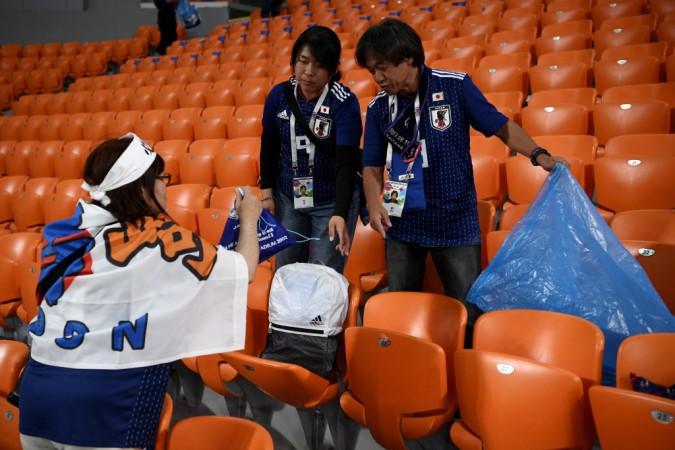 Travelling fans from Japan have been winning hearts with their socially responsible behaviour at the World Cup.
They had stayed back at the Mordovia Arena in Saransk after their historic win over Colombia last month to collect the thrash in their part of the stands. They repeated the gesture after their 2-2 draw over Senegal in Ekaterinburg on June 24.
Notably, Scott North, a professor of sociology at the Osaka University, had told the BBC after the Colombia tie, that he wasn't surprised by the gesture of the Japanese fans and insisted that "cleaning up after football matches in an extension of basic behaviours that are taught in school" back in the Asian country.