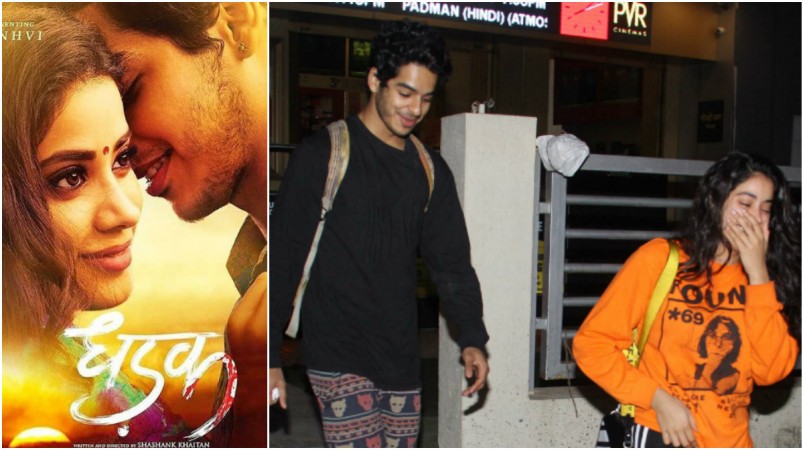 Janhvi Kapoor and Ishaan Khattar are set to make their Bollywood debut this year with Dhadak, a remake of superhit Marathi film Sairat. Since the announcement, the dating rumours of the duo has been doing the rounds.
They are spotted at most of the events and family functions together. Recently, Janhvi and Ishaan were seen coming out of a theatre in Mumbai. What's so special about the pictures?
Well, the chemistry between the two can be seen in these photos. The duo was blushing, especially Janhvi. She was in all smiles. Their beautiful love story seems to have been going quite strong.
Or is it for movie's publicity? Well, we can only know after Dhadak's release. Meanwhile, we would like to believe that Janhvi and Ishaan are an adorable couple in the tinsel town.
Earlier, it was reported that Ishaan's half-brother Shahid Kapoor and Janhvi's mother Sridevi had warned them not to hook up and instead concentrate on their work. But, these two are inseparable.
However, now, it looks like the family on both sides are fine with the duo's relationship. They were even spotted attending having dinner with each other's families.
On the work front, Dhadak is set to hit the screens on July 6. It will reportedly have a racy dance number starring Janhvi. Confirming the news, choreographer Tushar Kalia told Mumbai Mirror: "The song which focuses only on Janhvi does not have a name yet nor has it been recorded."
"We worked with the scratch, the singer will be finalized shortly. Since it's a new addition, I had no reference point from the original. Fortunately, Janhvi's an extremely confident girl and didn't say 'no' to any of the difficult steps."
The original movie, Sairat, didn't have any solo dance performances or any intimate scenes. But the Hindi remake seems to have added all the glamour in it. We wonder what will be the outcome.
According to another report in Mumbai Mirror, the star kids shot for a make-out scene for Dhadak. The scene required them to engage in kissing and a lot of touching, the report said.