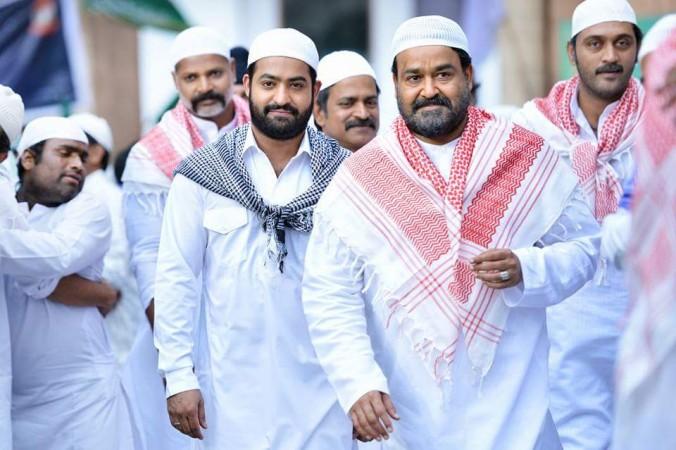 Mechanic Sathyam (Mohanlal), who shifted to Hyderabad following his brother's (Rahman) request, starts a garage named Janatha Garage, where not only vehicles, but also the problems faced by common people are repaired. Since he is vocal against injustice, Sathyam soon becomes an influential person in the society. Even the government seems to be afraid to take major decisions without consulting Sathyam as the authorities are sure that Janatha Garage will find the solution if they are approached for help.
After introducing Sathyam's family and showing how he becomes the saviour of poor people through certain flashback scenes, Junior NTR's character Anand appears 15 minutes after the movie starts, with the intro song "Pranaamam." Anand is an environmental activist, who lands in Hyderabad for doing a research work. How he meets Sathyam, who is actually his uncle (which is only revealed to them in the second half of the film) and becomes his successor to run Janatha Garage forms the gist of the movie.
Check Janatha Garage opening day box office collection
Read: Junior NTR's interview | SS Rajamouli JG Review
Performance
Though the versatile actor Mohanlal has made an impressive performance in the Koratala Siva-directorial venture, the 'complete actor' seems to be incomplete without his own voice as it has been given by a dubbing artiste.
Through Anand, "Janatha Garage" delivers a strong message, asking each of us to serve Mother Earth by protecting nature in all the best ways possible. If a person bursts a cracker causing pollution or if a businessman wants to build a township by destroying a park, Anand reacts as an environmentalist, and fights — verbally and physically — to take care of nature. But too much of love for nature can also be irritating at times for viewers, even if you are an environmentalist.
Check: 5 reasons to watch 'Janatha Garage'
The usual one-man show stunt sequences where Jr. NTR fights without even shedding a drop of blood are sure to enthral his ardent fans. But there is a scene in which Anand is seen attacking police officers too. Is it possible in real life? Such sequences are part of Young Tiger's action thrillers.
Samantha Ruth Prabhu is more than just a good looking and glamorous actress, and her short stint has once again entertained the audience with the good on-screen chemistry with Jr. NTR. Though seen in only a few scenes, Nithya Menen has also delivered a natural performance opposite the young star. As Mohanlal's son Raghava, Unni Mukundan proves to be a promising actor in his debut Tollywood project in a negative character. Sachin Khedekar, who plays a successful businessman struggling to make a few of his dreams come true because of Sathyam, deserves applause for his convincing performance. The other actors, including Brahmaji, Ajay, Sithara, Saikumar Pudipeddi and Devyani, have also done justice to their roles.
Read: 10 reasons on why 'Janatha Garage' will be a superhit at box office
Technical aspects
The background score is spot on, matching the situations of the movie. From "Pranaamam," "Rock On," "Apple Beauty," "Jayaho Janatha," "Nee Selvadigi" and "Pakka Local," all the songs of the movie are impressive. The peppy numbers, especially "Apple Beauty" and Kajal Aggarwal's "Pakka Local," are a delight to watch for the audience, with beautiful choreography and colourful visuals. The cinematography by Tirru is a visual treat, and the "Rock On" song has especially captured the beauty of the Athirappally waterfalls in Kerala.
Drawbacks
One of the major drawbacks of "Janatha Garage" is its slow narration. There were many portions that could have been cut short and better editing by Kotagiri Venkateswara Rao could have made it a crisper entertainer. There is a scene where Anand shouts at Raghava and his wife saying "no more parties," but few minutes later, we see Anand and other Janatha Garage team dancing to an item number with Kajal — a paradox?
Check: Janatha Garage Stills | Kajal's Item Song | SS Rajamouli watches JG | Music Launch
Final Take
"Janatha Garage" is an predictable action thriller that also gives equal importance to family relationships and emotions. The main topics narrated in the movie are protection of environment and the well-being of common man. Both Mohanlal and Junior NTR get equal prominence in the movie that is sure to impress both the Telugu and Malayalam audience. However, the duration, which is nearly three hours, makes the movie slightly weary at times. The Koratala Siva-directed film is a one-time watch for the notable performance of the lead actors.
IBTimes India Rating: 3/5