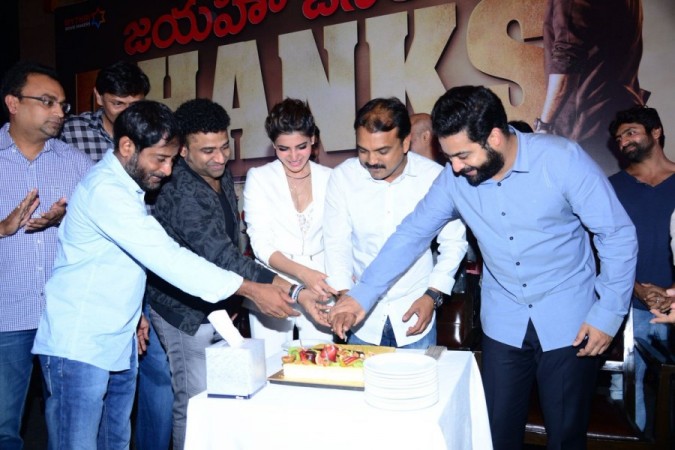 Dil Raju and other distributors from Andhra Pradesh and Telangana say "Janatha Garage" has become the highest grossing film at the box office in just eight days. They are all grateful to Junior NTR, Koratala Siva and others members of the team for the blockbuster success.
Check: Janatha Garage Thanks Meet Photos
The makers of "Janatha Garage" held a thanks meeting to celebrate its success in Hyderabad on Sept 10. Its distributors from both the states attended the function and shared the excitement over its massive success. Addressing the event, they congratulated and thanked the film unit for making them part of their success journey.
"I congratulate all the artistes and technicians, who have worked in 'Janatha Garage.' In my beginning days, 'Aadi' was the first film to recover my investments on its Nizam rights in eight days. After 14 years, 'Janatha Garage' has done it in 8 days. When compared to the price of distribution rights of 'Aadi,' this movie was priced very high and even then, the movie has been able to earn it in 8 days," Dil Raju said.
" 'Janatha Garage' has also done superb business in other areas of Andhra Pradesh and Telangana. It is really a magic to return the investments to the distributors of all the regions in the first week. I thank Junior NTR, Koratala Siva and producers for creating this magic," the Nizam distributor added.
"As a producer, I have completed 13 years in the industry and I know Koratala Siva from the days of Bhadra. He has scored a hat-trick success with Janatha Garage. I am very happy that he has gone to the next level with each of his directorial ventures. I congratulate him and I request him to continue his career like this," Dil Raju said.
Satish, who distributed the film in Vizag, thanked the producers for giving them an opportunity. "I've distributed movies of Konidela and Ghattimaneni families, but I had not done it with Nandamuri family films. I would like to thank Mythri Movie Makers for giving me this opportunity. 'Janatha Garage' has done brilliant collection in Vizag," said the distributor.
"I would like to thank hero, director and producers for giving an opportunity to distribute 'Janatha Garage' in Godavari East. I had distributed "Nannaku Prematho" in this region. In just eight days, "Janatha Garage" has achieved the life time collection of "Nannaku Prematho" in the area. The movie has recovered my investments and earned it in its opening week. I once again thank the team for giving such a blockbuster film," Bharat Chaudhary, the distributor of East Godavari, said.
"Junior NTR's 'Janatha Garage' has become the highest grosser in West Godavari in first week. I am thankful to the producers of the film," said LBR, distributor.
Here is a table detailing the estimated prices of the distribution rights of "Janatha Garage" and earnings in various areas. These are estimated numbers and may vary from the actual number released by the makers.
Area
Distributor
Price
Share
Recovery in %
Nizam
Dil Raju
Rs. 15.30 crore
Rs. 16.07 crore
105.03
Ceeded
Murali & others
Rs. 9 crore
Rs. 9.58 crore
106.44
Vizag
Gayatri Devi
Rs. 5.12 crore
Rs. 6.15 crore
120.11
G East
Ishna Entertainment
Rs. 4.23 crore
Rs. 4.22 crore
99.76
G West
Aditya Films
Rs. 3.30 crore
Rs. 3.61 crore
109.39
Guntur
S Creations
Rs. 8.34 crore
Rs. 5.08 crore
106.95
Krishna
Rs. 3.84 crore
Nellore
Vimal Pictures
Rs. 2.34 crore
Rs. 1.89 crore
80.76
AP Total
-----
Rs. 47.63 crore
Rs. 50.45 crore
105.92