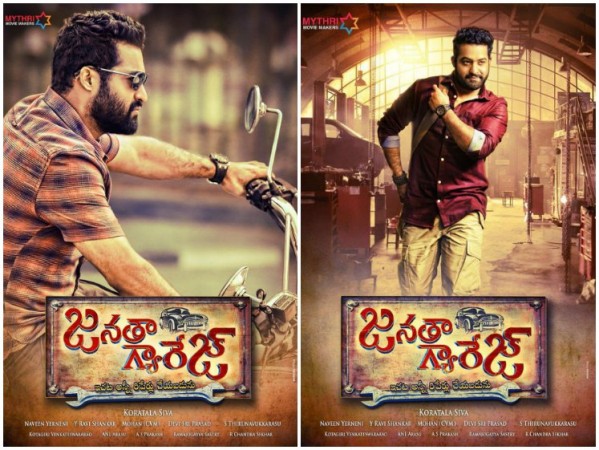 "Janatha Garage" had a steep decline in its collection at the box office on Tuesday and Wednesday, but the movie beaten the first week record of Koratala Siva's "Srimanthudu" in just six days.
The Junior NTR and Mohanlal starrer rocked the box office over the weekend as well as Monday, Ganesh Chaturthi holiday. But the movie witnessed a huge drop on Tuesday and Wednesday, as schools, colleges and offices reopened after a long weekend. But the film ran to packed houses in some centres across Andhra Pradesh and Telangana (AP/T) on its sixth and seventh day.
"Janatha Garage" is estimated to have collected over Rs. 6 crore across at the AP/T box office on Tuesday and Wednesday, taking its seven-day gross total to Rs. 82 crore in these states. The movie has earned Rs. 4.15 crore for its distributors and its total AP/T share has reached Rs. 45.62 crore in seven days. The film has one day to conclude the first week and its share will not surpass Rs. 50 crore mark in its opening week.
"Janatha Garage" has already shattered the life time collection records of super-hit movies like "Baadshah" and "Nannaku Prematho." The movie has become the biggest opener and highest earning film for young tiger Junior NTR in just five days. In the coming days, the film is expected to set a big benchmark for his upcoming movies.
Koratala Siva started his career as a scriptwriter and he debuted as director with Prabhas' "Mirchi," which earned a share of Rs. 39.90 crore at the AP/T box office in its life time. His second film "Srimanthudu" achieved this feat in its opening week by earning Rs 38.55 crore in these states. It held the record of non-"Baahubali" highest earner. Janatha Garage has shattered both the records and become a hat-trick success in his career.
Here is the day-wise shares of "Janatha Garage" in various areas of Andhra Pradesh and Telangana. These are estimated numbers and may vary from the actual number released by the makers.
| | | | | | | | | |
| --- | --- | --- | --- | --- | --- | --- | --- | --- |
| Area | Day 1 | Day 2 | Day 3 | Day 4 | Day 5 | Day 6 | Day 7 | Total |
| Nizam | 5.51 | 2.15 | 1.84 | 2.10 | 1.84 | 0.80 | 0.45 | 14.69 |
| Ceeded | 3.55 | 1.08 | 0.75 | 1.08 | 1.10 | 0.58 | 0.32 | 8.46 |
| Vizag | 2.30 | 0.70 | 0.55 | 0.55 | 0.63 | 0.39 | 0.35 | 5.47 |
| G East | 2.28 | 0.30 | 0.27 | 0.27 | 0.44 | 0.21 | 0.09 | 3.86 |
| G West | 1.84 | 0.31 | 0.24 | 0.28 | 0.38 | 0.18 | 0.10 | 3.33 |
| Krishna | 1.54 | 0.39 | 0.32 | 0.48 | 0.54 | 0.15 | 0.07 | 3.49 |
| Guntur | 2.58 | 0.40 | 0.35 | 0.51 | 0.53 | 0.20 | 0.10 | 4.67 |
| Nellore | 0.89 | 0.15 | 0.13 | 0.16 | 0.16 | 0.10 | 0.06 | 1.66 |
| AP/T total | 20.49 | 5.48 | 4.45 | 5.43 | 5.62 | 2.61 | 1.54 | 45.62 |