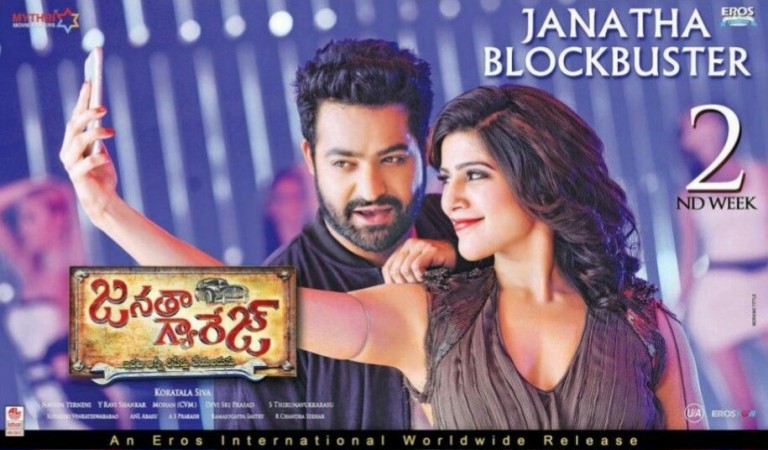 Junior NTR's "Janatha Garage" showed good growth at the Andhra Pradesh and Telangana (AP/T) box office in its run up to 10th day. The movie's distributors' earnings inched closer to Rs. 50 crore on the second Saturday.
After a rocking collection in the opening week, "Janatha Garage" witnessed a decline in collection on the second Friday. New releases "Inkokkadu," starring Vikram, and "Jyo Achyutananda," starring Nara Rohit and Naga Shourya, took a toll on its business. The movie was also affected by two much-hyped Hindi movies "Baar Baar Dekho" and "Freaky Ali".
But the Koratala Siva-directed action drama showed very good jump in its collection on the second Saturday. "Janatha Garage" is estimated to have collected Rs. 1.65 crore gross at the AP/T box office on the 10th day, taking its gross total to Rs. 71 crore in the Telugu-speaking states. As per early trends, the movie is expected to surpass Rs. 75 crore in overall collection.
"Janatha Garage" earned Rs. 1.24 crore for its AP/T distributors on the second Saturday and its total earnings has reached Rs. 48.72 crore in the Telugu-speaking states. The Junior NTR and Mohanlal-starrer is set to cross Rs. 50 crore mark on its 11th day.
Various distributors acquired the AP/T theatrical rights of "Janatha Garage" for a whopping price of Rs. 47.63 crore. The movie has recovered the distrbutors' investment in most of the regions. The film is yet to recover 3 percent of the investment in Godavari West and it may be able to do it in next couple of days; however, it is likely to incur 10 to 15 percent losses to Nellore distributors.
Here is a table detailing the estimated prices of its distribution rights and earnings in various areas around the world.
Area
Distributor
Price
Share
Recovery in %
Nizam
Dil Raju
Rs. 15.30 crore
Rs. 15.57 crore
101.76
Ceeded
Murali & others
Rs. 9 crore
Rs. 9.16 crore
101.77
Vizag
Gayatri Devi
Rs. 5.12 crore
Rs. 5.92 crore
115.62
G East
Ishna Entertainment
Rs. 4.23 crore
Rs. 4.10 crore
96.92
G West
Aditya Films
Rs. 3.30 crore
Rs. 3.51 crore
106.36
Guntur
S Creations
Rs. 8.34 crore
Rs. 4.93 crore
103.47
Krishna
Rs. 3.70 crore
Nellore
Vimal Pictures
Rs. 2.34 crore
Rs. 1.83 crore
78.20
AP Total
-----
Rs. 47.63 crore
Rs. 48.73 crore
102.30
Here is the day-wise break-up of shares of "Janatha Garage" in various centres of AP/T. These are estimated numbers and may vary from the actual number released by the makers. All the figures are in crore Rs.
| | | | | | | | | | | | |
| --- | --- | --- | --- | --- | --- | --- | --- | --- | --- | --- | --- |
| Area | Day 1 | Day 2 | Day 3 | Day 4 | Day 5 | Day 6 | Day 7 | Day 8 | Day 9 | Day 10 | Total |
| Nizam | 5.51 | 2.15 | 1.84 | 2.10 | 1.84 | 0.80 | 0.45 | 0.25 | 0.28 | 0.35 | 15.57 |
| Ceeded | 3.55 | 1.08 | 0.75 | 1.08 | 1.10 | 0.58 | 0.31 | 0.24 | 0.22 | 0.27 | 9.16 |
| Vizag | 2.30 | 0.70 | 0.55 | 0.55 | 0.63 | 0.39 | 0.35 | 0.14 | 0.12 | 0.19 | 5.92 |
| G East | 2.28 | 0.30 | 0.27 | 0.27 | 0.44 | 0.21 | 0.09 | 0.07 | 0.06 | 0.11 | 4.10 |
| G West | 1.84 | 0.31 | 0.24 | 0.28 | 0.38 | 0.18 | 0.10 | 0.06 | 0.05 | 0.07 | 3.51 |
| Krishna | 1.54 | 0.39 | 0.32 | 0.48 | 0.54 | 0.15 | 0.07 | 0.05 | 0.06 | 0.10 | 3.70 |
| Guntur | 2.58 | 0.40 | 0.35 | 0.51 | 0.53 | 0.20 | 0.10 | 0.08 | 0.07 | 0.12 | 4.93 |
| Nellore | 0.89 | 0.15 | 0.13 | 0.16 | 0.16 | 0.10 | 0.06 | 0.06 | 0.05 | 0.06 | 1.83 |
| total | 20.49 | 5.48 | 4.45 | 5.43 | 5.62 | 2.61 | 1.53 | 0.95 | 0.91 | 1.27 | 48.73 |