Powers star Pawan Kalyan is all set to address his followers on the Formation Day of the Jana Sena Party in an event being held Wednesday in Guntur. This celebration event will be live-streamed on YouTube.
It is well-known that Pawan Kalyan floated his own political outfit called the Jana Sena Party back in 2014. The power star submitted an application for registering the party name on March 10, 2014, and formally launched it March 14. The party turned four this Wednesday, and Pawan Kalyan has organized a grand function to celebrate its formation day.
The Jana Sena Party sent out an open invitation to all his followers on Twitter. The party tweeted: "JanaSena Party requests your gracious presence on the occasion of 'The JanaSena Formation Day Maha Sabha' to be held on the 14th day of March, 2018 - #JanaSenaParty Chief @PawanKalyan."
The formation day event of the Jana Sena Party is being held at the grounds near the Acharya Nagarjuna University in Guntur.
Pawan Kalyan has made grand arrangements for this mega public meeting and the party's plenary session. Thousands of his followers from across the Telugu states are expected to attend this event and he has taken all the necessary steps to face any emergency situation.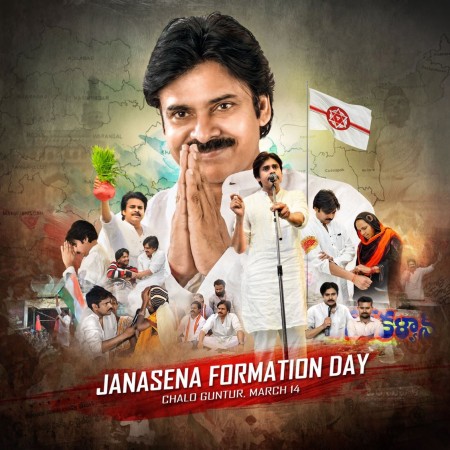 The official Twitter handle of the Jana Sena Party wrote on March 11: "With the instructions of Shri @PawanKalyan BLS (Basic Life Support) training program was organised at Coordination office in Vijayawada. 200 students from Krishna & Guntur districts participated in it. They are trained to handle any emergency situation during March 14th meeting."
The formation day event of the Jana Sena Party will reportedly begin with some cultural programs, which will be followed by Pawan Kalyan's address to the public. The actor is expected to announce the executive committee and roadmap of the party on this occasion.
This function will be streamed live on the YouTube channel of the Jana Sena Party. It will also be telecast on TV9 and other Telugu TV channels.