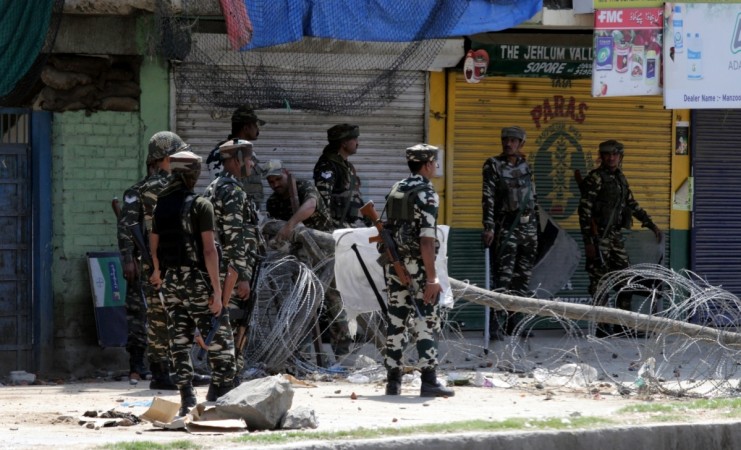 At least one unidentified terrorist was killed after an encounter between terrorists and security forces in the Sopore area of Jammu and Kashmir's Baramulla district in the wee hours of Tuesday.
A police official told the Press Trust of India (PTI) that they had received information about the movement of terrorists in the Tarzoo area of Haritar village in Sopore, following which they laid an ambush. Security forces noticed suspicious movement in the area and they then challenged the terrorists. The terrorists also, in retaliation, opened fire.
"In the retaliatory firing, one militant was killed," the official said. According to Greater Kashmir, another terrorist managed to escape.
"We got information about terrorist movement and carried out a joint surveillance/ambush with the SOG Sopore police. When terrorists entered our ambush area, we challenged them after which they fired a lot of rounds at us. The fire-fight went on for an hour or so," Commanding Officer Rajeshwar Jamwal from the 52 Rashtriya Rifles told reporters.
According to ANI, the encounter has ended. Arms and ammunition has been recovered from the site of the encounter.
Meanwhile, gunshots were heard in the Sirender and Kota-Satri forest areas of Bandipora district of Jammu and Kashmir after which security forces cordoned off the area.
Later in the day, a soldier got injured after terrorists opened fire at security forces in Pulwama district.
This comes almost a week after an encounter between security forces and terrorists in Shahgund Hajin in Bandipora district.
Encounter b/w security forces and terrorists end in Baramulla distt (J&K). Total of one terrorist killed; arms & ammunitions recovered. pic.twitter.com/nrn27xjQMY

— ANI (@ANI_news) January 3, 2017
Encounter breaks out b/w security forces & terrorists in Haritar Tarzoo area in Baramullah distt (J&K). 2 terrorists believed to be hiding.

— ANI (@ANI_news) January 2, 2017
UPDATE: One terrorist killed in an ongoing encounter with security forces in Baramullah district (J&K), arms and ammunitions recovered. — ANI (@ANI_news) January 3, 2017