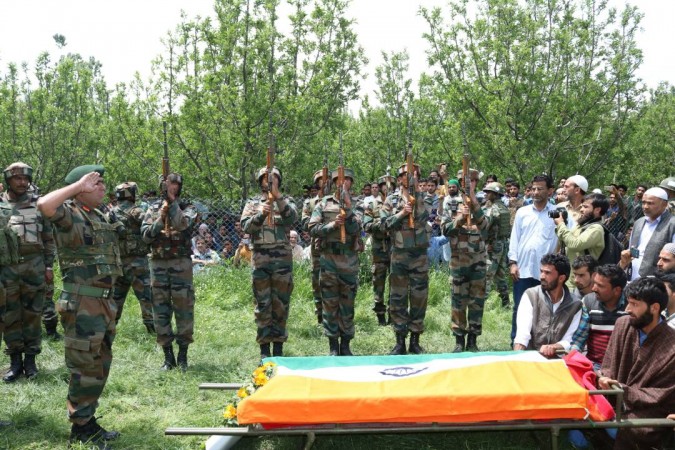 The memory of Indian Army Lieutenant Ummer Fayaz was sullied further on Wednesday — barely hours after his bullet-riddled body was found in the Herman area of South Kashmir's Shopian district — when stone-pelters targeted his funeral ceremony.
Fayaz, an Army doctor with the Rajputana Rifles regiment, had been posted in Akhnoor after joining the Army in December last year. He had come to his home in Kulgam recently, and from there had gone to attend a wedding ceremony when he was abducted by terrorists on Tuesday. They reportedly shot him and disposed of his body in Shopian, where it was found on Wednesday morning.
However, local reports say some people pelted stones at the gathering that had come together to pay their last respects when Fayaz was being laid to rest in Kulgam. Some reports also said firing was heard from the procession that followed the mortal remains of the soldier to his last resting place.
Condolences and a jarring note
Condolences poured in after news of Fayaz's martyrdom spread. Union Defence Minister Arun Jaitley said: "We share the grief of family of Lt Ummer Fayaz and stand in solidarity. Lt Ummer Fayaz will continue to inspire youth from the Valley." Union Minister of State for Home Affairs Hansraj Ahir said about the incident: "We condemn this incident. Let an investigation take place. This will merit a proper response."
Jammu and Kashmir Chief Minister Mehbooba Mufti also condemned the incident, noting that it was more painful because fayaz was not on duty when he was killed. Lt Gen Abhay Krishna, General Officer Commanding-in-Chief and also Colonel of the Rajputana Rifles, condoled the killing and said in an official statement: "I assure the family [of Lt Fayaz] that perpetrators of this heinous crime and dastardly act will not be spared."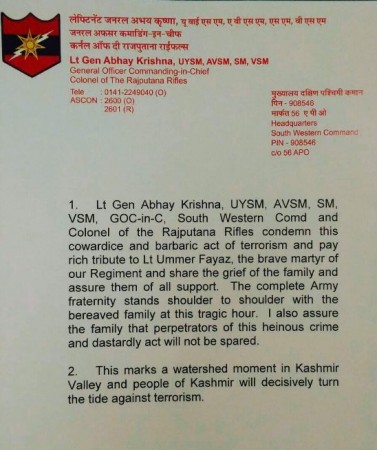 However, there was one jarring note among all these messages, and that was from Samajwadi Party chief Akhilesh Yadav. He had the temerity to ask how jawans from all corners of the country — Uttar Pradesh, Madhya Pradesh, southern India — were being martyred, but no jawan from Gujarat, the home state of Prime Minister Narendra Modi, was ever martyred in terrorist attacks. Social media was quick to chastise him.
Young life cut short
Lt Fayaz was only 22, and would have turned 23 later this month. The young soldier's Facebook wall bears testimony of a life full of vigour cut short: A life spent loving sports and Bollywood potboilers like Shah Rukh Khan-starrer Chennai Express or Salman Khan-starrer Jai Ho.
It also has enough testimony to his love for family-members, friends and colleagues, who reacted and commented on his posts and photos with great enthusiasm and even more numbers.