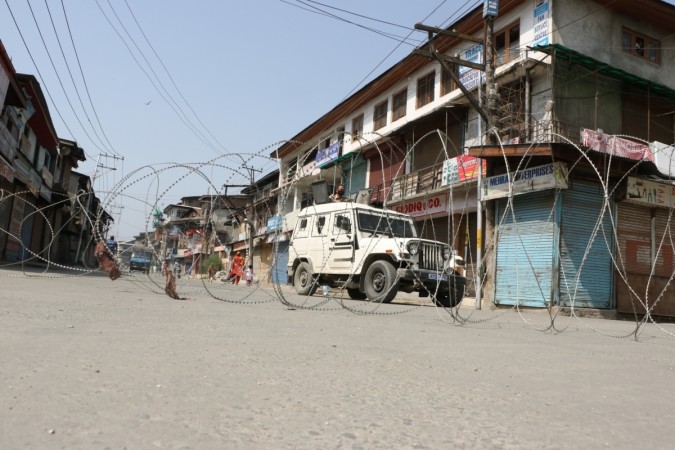 Union home minister Amit Shah met National Security Advisor Ajit Doval and the chief of the Intelligence Bureau on Monday to review the situation in Jammu and Kashmir where restrictions are being lifted in phases.
Doval was meeting the home minister for the first time since his return from the valley, where he stayed for 10 days.
At least 190 out of around 900 schools in Srinagar and other parts of Kashmir were set to reopen on Monday after a 14-day lockdown. Only 95 schools of the 190 functioned and the classrooms stayed deserted amid restrictions.
The move came amid tension in the valley after the Jammu and Kashmir authorities reimposed restrictions on movement in parts of Srinagar on Sunday after violent protests erupted the night before. At least 17 people were reportedly taken to hospitals with pellet-gun injuries.
The authorities had also made 10 more telephone exchanges operation in Kashmir but closed one of the 17 exchanges restored on Saturday following reports of landlines being used for spreading misinformation.
Deputy Commissioner of Srinagar Dr Shahid Iqbal held a meeting with officers of the Education department and heads of schools in the district regarding assistance required, ahead of the reopening of schools.
Live Updates
2019-08-1915:31 (IST)
Amit Shah chairs security review meeting
National Security Advisor Ajit Doval met Union Home Minister Amit shah to review the security situation in Jammu & Kashmir.
Ajit Doval was in Jammu and Kashmir in the days after the government announced its move to nullify Article 370 and bifurcate Jammu & Kashmir.
2019-08-1914:00 (IST)
DMK announces protest over abrogation of Article 370
2019-08-1913:59 (IST)
Decision on Article 370 should be reversed: Ghulam Nabi Azad
"I demand from the govt that the wrong decision (Article 370) taken by them, which has also been proved wrong as nobody in the state is happy, such a decision should be reversed. Political leaders should be released & normalcy must be restored," Ghulam Nabi Azad told ANI.
2019-08-1912:58 (IST)
Atmosphere of fear and intimidation in valley: Ghulam Nabi Azad
"Fifteen days have passed but the situation is grim. I demand release of all former CMs, MLAs and political leaders across the state. Reports are being heard that young boys are being picked up. The government must clear how many people have been arrested. There is an atmosphere of fear and intimidation in the Valley," Ghulam Nabi Azad was quoted as saying by India Today.
2019-08-1912:38 (IST)
2 BSNL officers suspended over internet access to Geelani
Two BSNL officers have been suspended for providing internet access to Kashmiri separatist Hurriyat leader Syed Ali Shah Geelani.
A probe was initiated after Geelani tweeted during communication blackout.
2019-08-1912:14 (IST)
Sending children to school is out of the question: Parents in Kashmir Valley
Parents in the Kashmir valley remained apprehensive of sending their children to school even as the Srinagar deputy commissioner of police appealed them to do so.
"There is so much uncertainty in the situation that sending kids to school at this stage is out of question," Farooq Ahmad Dar, a parent, was quoted as saying by PTI.
2019-08-1912:06 (IST)
Teachers report to work in Kashmir
Teachers reported to work in many schools in Kashmir although attendance of the students remained low.
The private schools in Srinagar remained shut "because parents were apprehensive about the security situation in view of violent protests over the past two days".
2019-08-1911:25 (IST)
We appeal to parents to send their children: Srinagar deputy commissioner of police
"We have opened schools only in some areas after reviewing security there. We appeal to parents to send their children wherever schools have been reopened. Security is our responsibility," Shahid Iqbal, Srinagar deputy commissioner of police, said on Monday.
2019-08-1911:20 (IST)
Criminal complaint filed against Shehla Rashid
Supreme Court lawyer Alakh Alok Srivastava has filed a criminal complaint against Shehla Rashid, seeking her arrest for allegedly spreading fake news against Indian Army and Government of India.
In a series of tweets, Rashid had on Sunday said, "People are saying that Jammu and Kashmir Police has no authority on law and order situation. They have been rendered powerless. Everything is in the hands of paramilitary forces. One SHO was transferred on complaint of a CRPF man. SHOs carrying batons. Service revolvers can't be seen on them."
2019-08-1911:14 (IST)
Schools re-open in Rajouri district on Monday
2019-08-1909:52 (IST)
95 of 190 schools open in Valley
Only 95 of 190 schools opened in Srinagar on Monday. The schools were deserted too as children didn't turn up.
Authorities had reportedly predicted that the attendance will be low because of the restrictions.
2019-08-1909:50 (IST)
Weapons of J&K police officers are not being seized, baseless rumour, says J&K home secretary
A fake news is being spread that weapons of special police officers of J&K police are being seized. This is purely a rumour being spread by vested interests. It is categorically denied : Shaleen Kabra, Home Secretary, J&K.

— DIPR-J&K (@diprjk) August 19, 2019