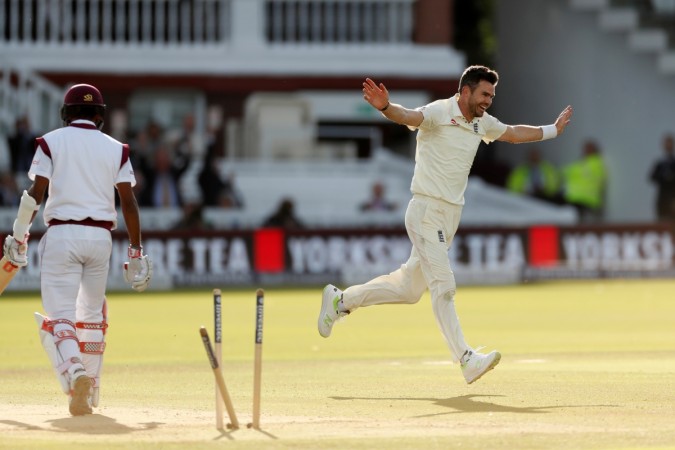 When you claim 500 Test wickets, it is always difficult to pick your best ones. But England paceman James Anderson, the latest to the elite club has revealed his five favourite victims including an Indian and it is not Sachin Tendulkar, Rahul Dravid or Virat Kohli.
At Lord's on Friday (September 8), Anderson became the first English bowler to account for 500 dismissals in Test cricket. He bowled West Indies' opener Kraigg Brathwaite for the milestone wicket.
The 35-year-old Anderson is only the sixth bowler in Test history to go past the 500-wicket landmark. The list is headed by Sri Lankan spin legend Muttaiah Muralitharan with 708 scalps.
Also read: Exclusive interview with Marvan Atapattu
Anderson is the third fast bowler in the illustrious list after Australia's Glenn McGrath (563) and Courtney Walsh (519) of West Indies.
After the achievement, Anderson chose to unveil his five favourite victims and the top two were Ashes rivals Brad Haddin and Ricky Ponting. West Indies' Denesh Ramdin and New Zealander Brendon McCullum are at three and four.
The fifth favourite is India's Mahendra Singh Dhoni. It could have come as a surprise for many as the Englishman picked the wicketkeeper-batsman from Jharkhand.
Also read: India-Australia series schedule
In his 129-Test career, Anderson, among Indian batsmen, has dismissed Tendulkar the most times – nine in 14 matches. He has sent back Dhoni to the pavilion on six occasions, in 19 games, in the five-day format and Gautam Gambhir too in six innings. He has got Dravid, Virender Sehwag, Kohli and Murali Vijay's wickets five times each.
Anderson's favourite wicket of Dhoni came at Kolkata's Eden Gardens in December 2012. He dismissed the Indian captain for a five-ball duck, caught by skipper Alastair Cook at slips.
Explaining about that wicket, Anderson wrote in "The Telegraph" newspaper, "The wickets I took on that India tour (2012) were mainly through reverse swing. It is nice when you have worked hard at a skill over the years to then be rewarded for it in such a big series. This was a crucial Test. We had won in Mumbai and winning in Calcutta would give us a decisive lead in the series."
He continued, "In the second innings I got Yuvraj Singh and Dhoni in quick succession. Yuvraj was bowled with one that reversed in, kept a little low and was from round the wicket. But it is the Dhoni one that sticks in my mind. I bowled a couple of big inswingers to him first. They were a bit wide and he left them. He was waiting for another inswinger. I bowled an outswinger that did not do a huge amount but because of the two before that had come in, he played at it and edged it to first slip. To get key players out in a Test win is what you remember years later."
England won the Kolkata Test for a 2-1 lead in the four-match rubber. With the fourth and final Test in Nagpur ending in a draw, the visitors won the Anthony De Mello trophy.
---
Anderson's favourite five Test wickets
1. Brad Haddin, 1st Test Vs Australia, Trent Bridge, July 2013
2. Ricky Ponting, 2nd Test Vs Australia, Adelaide, December 2010
3. Denesh Ramdin, 1st Test Vs West Indies, Antigua, April 2015
4. Brendon McCullum, 3rd Test Vs New Zealand, Trent Bridge, June 2008
5. MS Dhoni, 3rd Test Vs India, Kolkata, December 2012
---
Top six leading wicket-takers in Test cricket as on September 8, 2017
1. Muttaiah Muralitharan (Sri Lanka) – 800 wickets (133 Tests)
2. Shane Warne (Australia) – 708 (145)
3. Anil Kumble (India) – 619 (132)
4. Glenn McGrath (Australia) – 563 (124)
5. Courtney Walsh (West Indies) – 519 (132)
6. James Anderson (England) – 501 (129)