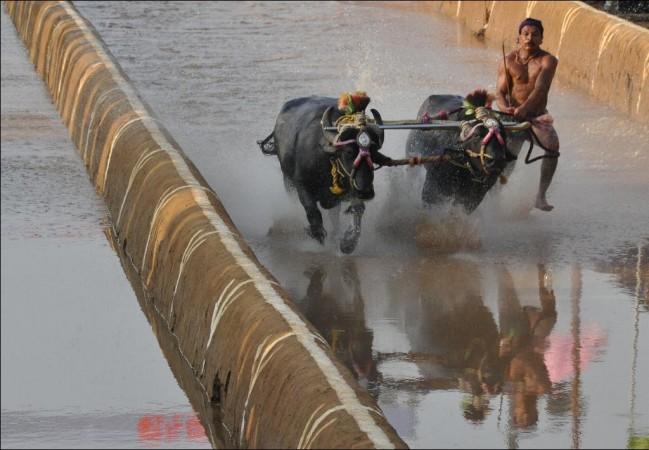 The protest to bring back Jallikattu has yielded the desired results: The Tamil Nadu government first passed an ordinance and then a law in a special session of the Assembly to make sure the ban on the bull-taming sport stands null and void. Activists have now set their sights on Kambala — a bull-taming sport from Karnataka.
Also read: After peaceful protests for its reinstatement, 2 killed as Jallikattu celebrations turn violent
According to a report in the Hindu, around 50 pro-Kannada activists, purportedly led by Vattal Nagaraj, were detained in Bengaluru on Monday for protesting against the ban on Kambala. Nagaraj was among those arrested. The report said: "The protesters gathered near Mysore Bank Circle around 11.45 am and started raising slogans and attempted to block the busy road. However, policemen detained them."
Their agitation disrupted the traffic for 30 minutes, which purportedly led to their detention. They are expected to protest again, on January 25, and this time the venue will reportedly be Raj Bhavan — the official residence of the Governor. They are also expected to raise the issue with Karnataka Governor Vajubhai Vala.
Similar protests have been held in other parts of Karnataka as well, with the possibility of more to come. "Our stir will be peaceful and for only one day. We will demand removal of the ban on Kambala," Gunapal Kadamba, a senior member of the Dakshina Kannada-Udupi Kambala organising committee, was quoted by the New Indian Express as saying on Sunday.
What is Kambala?
Kambala is a buffalo-cart race traditionally held in coastal Karnataka organised by village heads. It used to be held from November to March before it was banned by the Karnataka High court following a public interest litigation filed by the India unit of the People for the Ethical Treatment of Animals (PETA).
It may be noted that PETA India has been in the crosshair ofJallikattu protesters, who have blamed the animal-rights organisation for the ban on Jallikattu. They have even gone so far as to demand that PETA India be banned.