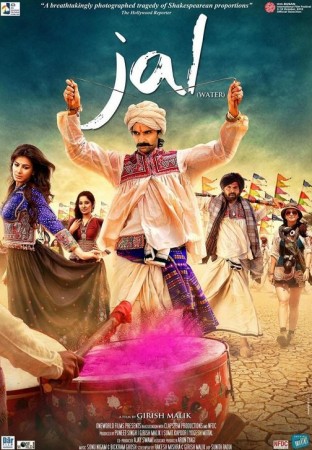 "Jal," set in salt marsh Rann of Kutch, Gujarat, starring Purab Kohli has mostly received good reviews from critics.
"Jal" tells the story of two villages in Kutch that faces water scarcity problem. Directed by Girish Malik, the film describes love, relationships, enmity and deceit that people share in the two warring villages.
Hollywood Reporter in their review said: "The search for and control of precious, life-giving water is at the heart of "Jal," a breathtakingly photographed tragedy of Shakespearean proportions."
Apart from Kohli, the film also features Tannishtha Chatterjee, Kirti Kulhari, Yashpal Sharma, Mukul Dev, Saidah Jules and Gary Richardson in important roles.
Check Out the Reviews Here:
Rahul Desai of Mumbai Mirror said: "The story is tropical and interesting; the execution of screenplay, not so much.
"No expense must be spared to punctuate this irony. A drilling machine, rival village, Shakespearian love story, chestthumping background score and greedy administrators are thrown in, just in case you thought this was going to be a meditative Road, Movie sort of experience."
"Given the ambitious scale, one can sense the excitement of the cinematographer. This is evident from an obsession with jibs and haze filters; but sadly, no trolley or tripod in the world can hide the limitations of digital photography in windy conditions. "Jal" is constructed as the kind of expansive cinema that begged to be shot on pure film. Rather unfortunate, because "Jal" ends up as the kind of film that begged to be pure unadulterated cinema."
Taran Adarsh of Bollywood Hungama said: "First, the premise! Set in the Rann of Kutch, "Jal" narrates the story of Bakka [Purab Kohli], who has the knack for discovering water in the desert. The story takes a turn when an animal activist, Kim [Saidah Jules], shows up at the village. She seeks Bakka's help to find water for the dying flamingos. A pump is installed to trace water for the flamingos, but there's no concern for the thirsting villagers. It is at this juncture that the drama begins, with the devious Puniya [Mukul Dev] hatching a conspiracy to destroy Bakka.
"One has witnessed the Rann of Kutch in several movies, but the director and DoP make sure they paint a spectacular image on canvas.
"On the whole, "Jal" makes a rock-solid impact. It's poignant and powerful and I suggest, you take time out to watch this truly gripping fare."
Madhureeta Mukherjee of The Times of India said: "Jal" captures the bare beauty of the golden cracked earth and its tortuous tapestry in artfully mounted frames (cinematography: Sunita Radia). It's a picture-perfect album with stark sights and parched souls.
"Debutant director Girish Malik throws in some light-hearted moments, which nicely water down the intensity of those long, sun-stroked scenes. The story scatters often like a fistful of sand, yet, for those seeking something different, go quench your thirst."
Suprateek Chatterjee of Firstpost said: "To be fair, "Jal" is a handsomely mounted production with lush visuals and a thumping, percussive soundtrack by Bickram Ghosh and singer Sonu Nigam (making his debut as a composer). It has a compelling story that can be distilled down to neat, ironic one-liners such as 'Why is it so hard for human beings to access water?' It even has a number of engaging and entertaining set-pieces.
"All in all, "Jal" is a beautiful-looking, but largely unwatchable film, one that aspires to be a work of art but fails in some of the most basic aspects of filmmaking."
Mohar Basu of Koimoi.com said: "Though I am always open to being drawn into the realm of experimental cinema, "Jal" seemed more like a powerpoint presentation to me. Though for the first hour the film appears lucid and gripping, the second hour becomes bothersome and tediously long. What really destroyed the quintessence of the film is the rough and casual editing that doesn't allow the magnanimity of scene to settle in. "Jal" could have been an eloquent offering but misses the tranquility that doesn't let the drama's tempo settle in.
"Jal" is a magnificently shot film but doesn't quite imbibe the needful spirit. Though Purab Kohli proves his flair as an actor, the film tries its hand at being a Shakespearan Tragedy where a hero is felicitated posthumously.
Photo Credit: Twitter/Purab Kohli
(Edited by Anu James)