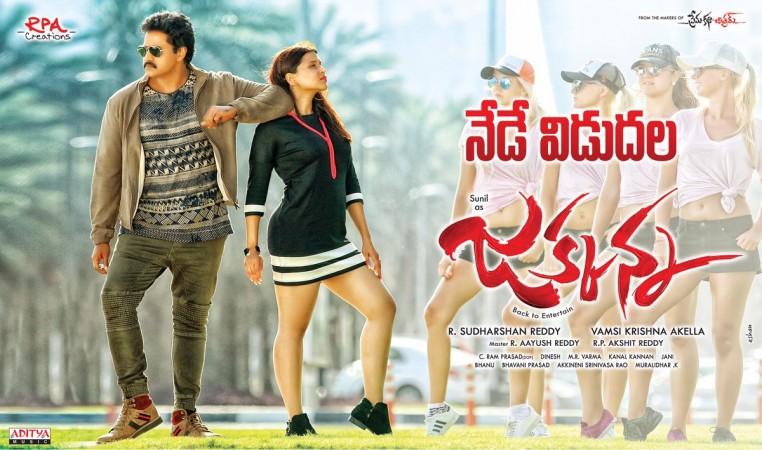 Director Vamshi Krishna Akkela's Telugu movie "Jakkanna," featuring comedy actor Sunil and Mannara Chopra in the lead roles, has received mixed reviews from the audience.
"Jakkanna" is a romantic-action movie, which is high on entertainment quotient. The movie revolves around the story of a happy-go-lucky youth named Jakkanna (Sunil) who lands in a problem when he crosses the path of dreaded gangster Bairagi (Kabir Singh). How he saves himself forms the crux of the story.
The audience say "Jakkanna" has a routine story and interesting screenplay. The first half of the film has nothing to boast in terms of story, but some comedy scenes are entertaining. The movie picks up the momentum with the gang war scene before the interval. But the director has failed to maintain throughout the second half, which is full of pointless gigs and spoofs.
Actor Sunil has delivered wonderful performance in "Jakkanna." His comedy timing, action and dance are the highlights of the movie. Mannara Chopra has done justice to her role and her chemistry with Sunil is another attraction of the film. Kabir Dulhan Singh, Sapthagiri, Prudhvi, Krishna Murali Posani, Prabhas Sreenu and Sathya have also done good jobs in the film, say the viewers.
We bring you some viewers' verdict shared on Twitter. Here is the live update of 'Jakkanna' movie view by audience:
G Sriniwasa Kumar ‏@SKNonline
2nd half of #Jakkanna provides nonstop mass entertainment @Mee_Sunil Prudhvi Sapthagiri trio nice show. Clearly #SunilbacktoEntertainment 30 years #Prudhvi hilarious Rib ticking comedy episode @Mee_Sunil #Jakkanna #SunilbacktoEntertainment
Vidhatha ‏@Vidhaatha
A wafer-thin story stuffed with entertainment @Mee_Sunil is back to his roots @ @memannara is good. #Jakkanna @SKNonline @elurucnu
Bobby ‏@Maharvin
Throughly enjoyed the movie fantastic comedy 2nd half and your dance with sunil #Jakkanna @memannara
Power Star Fan ‏@naaistam52
Ok frist half #Jakkanna one time watchable movie #Jakkanna
Nani'ss ‏@nagfunu
#Jakkanna worst movie in sunil after thadaka
Harish(KV) ‏@Harissh_KV
Just completed #Jakkanna ..Routine Flick...No new elements
Powerstar Narendra ‏@ThalaAjithPawan
#Intervel: #Jakkanna So far.....Em ledu...Rotta comedy....
TC™ #Jakkanna Bizz ‏@TeluguCinemaBiz
#Jakkanna Comedy Entertainer. Nothing new in the story apart from a few laughs. Average Film 2.5/5
Moviebuff ‏@RVaitla
#Jakkanna....A complete time-pass & average entertainer...Just one time watchable..!!
Hemanth Kumar C R ‏@crhemanth
Here's my review of #Jakkanna - A disappointing fare based on bunch of cliches
Power star PJ ‏@abhipj93
Jakkanna first Half ovey.comedy tho champesthunadu sunil soooper. #Jakkanna
V. Mallikarjun ‏@InsideMalli
#Jakkanna is silly and has no sense. Having said that, I still say, there are few laughs. Mass comedy.