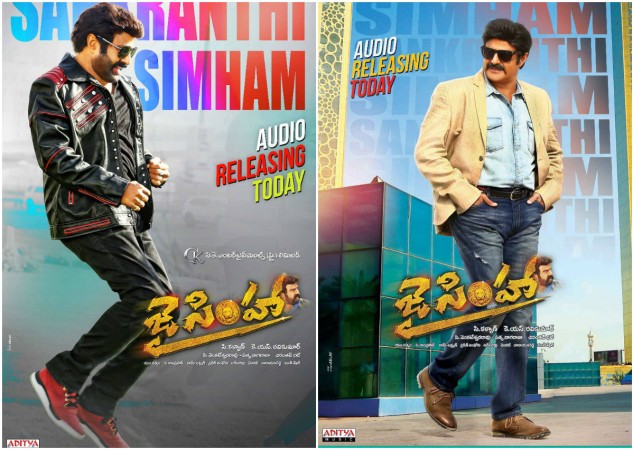 The makers of Balakrishna's Jai Simha are conducting its audio launch today, December 24. They have released its tracklist and its trailer will be out at the music event, which will be live streamed on YouTube.
C Kalyan, who is bankrolling Jai Simha under his banner CK Entertainments, announced that its audio launch will be held in Vijayawada on Sunday. The producer tweeted: "#NBK102 Grandeur #JaiSimhaAudioLaunch today from 5.30 pm onwards at Siddhartha Public School, Vijayawada! #JaiSimha."
The audio release of Jai Simha will be telecast live on some Telugu TV channels and also streamed the YouTube channels of CK Entertainments Aditya Music. C Kalyan tweeted: "#NBK102 #JaiSimha Audio Launch will be live on @NtvteluguHD @TV9Telugu and "Gemini Music"..In @YouTube on @CKEntsOffl and @adityamusic official channels."
Later, he also posted the link to the live video of its audio launch on the Twitter handle of CK Entertainments and wrote: "#NandamuriBalakrishna 's #JaiSimha Audio Launch Event Live Today at 6pm onwards Subscribe & Stay Tuned to Watch Live Here #Nayanthara #KSRavikumar #CKalyan #JaiSimhaAudioLaunch."
Written and directed by KS Ravikumar, Jai Simha features Nandamuri Balakrishna, Nayantara, Natasha Doshi and Hari Priya in the lead roles. Chirantan Bhatt has composed music for the movie, which has five trendy songs with foot-tapping music.
The CK Entertainments boss released the tracklist of Jai Simha this morning and tweeted: "Here's the tracklist of #JaiSimha Audio from today on @adityamusic #NBK102 #JaiSimhaAudioLaunch @ProducerCKalyan"
The producer has planned to release the trailer of Jai Simha at its grand audio launch. C Kalyan wrote: "#JaiSimha Theatrical trailer will be out today at Audio Launch #JaiSimhaTrailer. Worldwide Release on Sankranthi 2018."