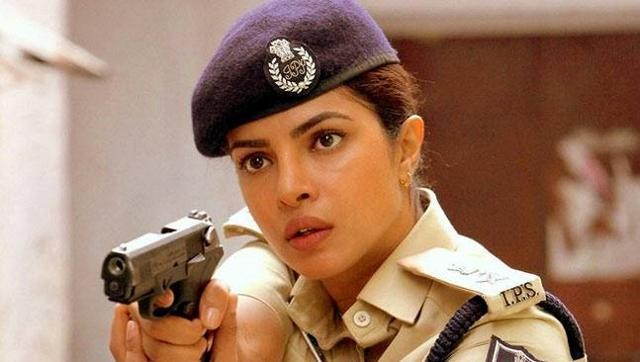 Director Prakash Jha's Bollywood movie "Jai Gangaajal" starring actress Priyanka Chopra has received mixed reviews from the audience around the world.
See: Jai Gangaajal Review | Poster | Trailer Launch Photos | PC at Oscars
"Jai Gangaajal" is an action drama film, which is a sequel of the 2003 crime film "Gangaajal". This female-centrice movie is about SP Abha Mathur, who is appointed the first female SP of Bankipur district in Bihar. The flick is all about how she goes against the Bankipur MLA and the henchmen of Lakhisarai district.
The viewers say "Jai Gangaajal" is predictable in the beginning and has a dragging narration in the first half of the movie. The story picks up the moment at the interval and the second half is very interesting and engrossing. The climax is also good. Overall, the movie makes a decent watch, but it is not upto its prequel.
Priyanka Chopra has played the protagonist role as SP Abha Mathur and she has delivered wonderful performance, which is the highlight in "Jai Gangaajal". Filmmaker Prakash Jha has made his acting debut and he has proved his mettle as an actor. Manav Kaul, Rahul Bhat, Ninad Kamat, Ayush Mahesh Khedekar, Murli Sharma, Vega Tamotia and others have done justice to their roles, say the viewers.
"Jai Gangaajal" has rich production values. Salim-Sulaiman's music, Sachin Krishn's cinematography, Prakash Jha's script and punch dialogues and well choreographed action scenes are the big attractions in the technical front, the viewers say in their verdict shared on Twitter. We bring you some of their unique comments. Here is the live update of "Jai Gangaajal" movie review by audience:
Deepak Dubey ‏@dd9421
#JaiGangaajal awesome movie... predictable in beginning..but climax was gud though. @prakashjha27 overshadowed @priyankachopra
GoWatch JaiGangaajal ‏@poojaspunky
Just Watched #JaiGangaajal Wow Amazed By @priyankachopra & @prakashjha27's Flawless And Powerful Acting! Great Effort As A Director & Actor! Abha Mathur's dialogue delivery in every scene has me like OMG ThankYou So Much @prakashjha27 For #JaiGangaajal @priyankachopra And This #JaiGangaajal Movie Has A Strong Message #WomenPower Im proud That PC Is a Part Of It! Love Seeing @priyankachopra As Abha Mathur The accent & body language tho PC's performance beats everyone else's ever!!! The Punches and Dialogue Delivery Will Slay You # JaiGangaajal The whole #JaiGangaajal Team Nailed it loved the music and BGM Perfect @priyankachopra @prakashjha27 Happiest Feeling I really loved the background music it's just #JaiGangaajal
Parth ‏@ParthReading
Prakash jha and @priyankachopra gave us #JaiGangaajal at that period of time when we have bargained our soul and courage. Firs half is gr8. A salute to Prakash Jha and Priyanka Chopra for giving us #JaiGangaajal . Directed and acted with brilliance, the movie is one of its kind.
Rajiv Vijayakar ‏@rajivvijayakar
First half of #Jai GangaaJal familiar but full of punch. @Priyanka nails it. Good but quite stretched movie #JaiGangaajal 3.5* auds gratification could hv been more. @priyankachopra rocks @prakashjha27 a star is born.
Rummana Ahmed ‏@reachrummana
Just look at her stride in a black pathan suit @priyankachopra Completely seeti worthy #JaiGangaajal #JaiGangaajal interval: What a hard hitting film so far. @priyankachopra and Prakash Jha are A class Second half was quite slow and predictable, but @priyankachopra was a class act #JaiGangaajal
AKASH SINGH ‏@akashofficial26
#JaiGangaajal A perfect mixture of emotions, actions, truth nd many scenes compell u 2 clap n whistle @priyankachopra @prakashjha27 hats off @priyankachopra and @prakashjha27 u both have stood out in ur acting skills....its superb...hats off #JaiGangaajal PC, u slayed it again
Ashish Pandey ‏@GenXSEOGeek
What a Movie #JaiGangaajal Awesome acting by @priyankachopra Love U a lot.. #JaiGangaajal Great story @JaiGangaajal @prakashjha27
HIMADRISH SUWAN (HS) ‏@shimadrish
Watched @JaiGangaajal .Must Watch, full of super dialogues & powerful acts.Most constructive movie till date. @priyankachopra @prakashjha27
HagguSingh ‏@HagguSingh
#HagguSingh says that #JaiGangaajal doesn't belong to this era. Prakash Jha is hero of the film & he has done good job. He has powerfull 1/2 @priyankachopra as supporting cast is good and has done full justice to #abhamathur. #PC fans will be disappointed.
Omais Shariff ‏@omaisshariff
@priyankachopra @JaiGangaajal @prakashjha27 @iiffiy Just Watched #JaiGangaajal in #Qatar.. Awesome Acting and Very nice message.Women Power!
AlwaysBollywood ‏@AlwaysBollywood
#JaiGangaajal review: *** Watch it for the flawless acting of @priyankachopra who dares to take on &punish the baddies with her khaki attire
Rohit Kadam ‏@PaintinDubaiRed
Saw #JaiGangaajal first day first show..n @priyankachopra u've absolutely killed it!! you're utterly fabulous as Abha Mathur! #NationalAward
a. ‏@IAlyazya_
As much as u hated Prakash in real life. Man ! He did a good job as a writer and director !!!! #JaiGangaajal the dialogues are so on point
Dr Ejaz Waris ‏@drejazwaris
Just saw #JaiGangaajal : what a brilliant movie must watch kinda stuff , @priyankachopra awesome and @prakashjha27 fantastic ! 9 on 10.
Roy ‏@AbhijeetRoy12
#JaiGangaajal is an average movie, acting is average,it reminds of AJ's gangajal.also movie was nt promoted well @priyankachopra
Sree ‏@simply_its_sree
After watching #JaiGangaajal v feel @priyankachopra a word 2be added in dictionary since no word can describe that she's more than the best
Mr HD ‏@232649 25m25
Composed! Powerful dialogue,Good acting y @priyankachopra & cast Msg for society, Question on system. #JaiGangaajal 3.5/5 star Watched #FirstDayFirstShow of #JaiGangaajal @Wave_Cinemas 3.5/5 star. Go an watch this movie. Worth watching on a weekend.