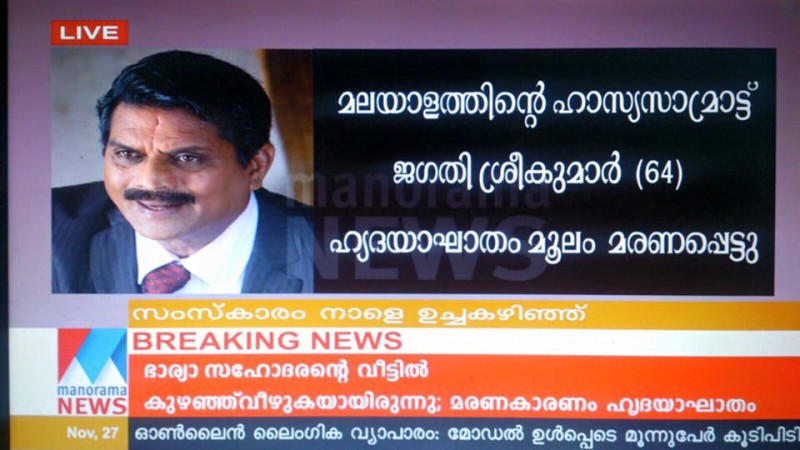 Malayalam actor Jagathy Sreeekumar has become the latest victim of death hoax on social media. A photo, showing Malayalam news channel Manorama's layout, has started doing the rounds on Internet that claims "the actor passed away following heart attack".
It also says that the 64-year-old actor, "collapsed while he was at his wife's brother's house".
Sources close to the channel have now revealed that the photo is fake and is said to be a photoshopped image made by someone to tarnish the image of the channel.
Kerala cyber police to investigate Jagathy Sreekumar death hoax
"F***** those A***** my family is still in shock after seeing this post that has been circulating in social medias and through whatsapp .. plz people mind your own business ... Why people are coming up with such fake news everyday ... My Pappa is healthy and safe... Please people stop ...instead of posting these news plz pray for him!," Jagathy's daughter Sreelakshmi Sreekumar posted on her Facebook page.
However, without realising the truth, fans have been sending condolence messages on social media platforms.
Jagathy, who has recovered after an accident that happened in Malappuram in 2012, recently made his public appearances and attended some programmes on TV channels. He will also grace the upcoming Asianet Comedy awards show that wil be aired on Sunday, 29 November.
In October, actor Mamukoya was also "killed" by social media users by spreading the fake message "Mamukoya passed away in a private hospital in Kozhikode. The actor was under treatment for his kidney for quite some time now".
It was then Malayalam superstar Mohanlal said that it was Malayalis' perversion that "killed" the veteran actor through such hoax messages.