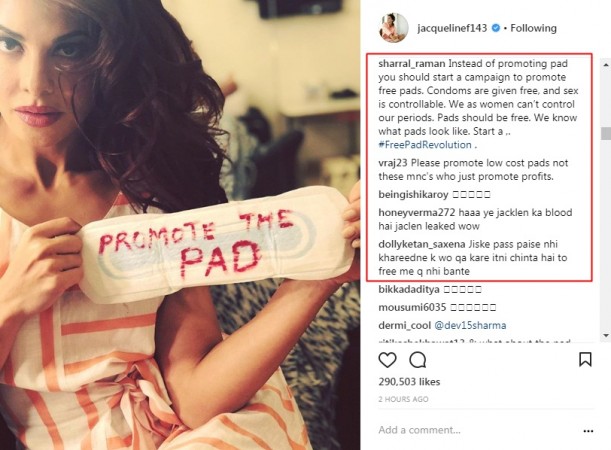 Jacqueline Fernandez is currently facing the wrath of netizens who are slamming the Kick actress left, right and center for wasting a sanitary napkin by promoting on social media Akshay Kumar's Friday-released film PadMan.
The 32-year-old actress took up the PadMan Challenge and tried to be thoughtful while doing so. She was seen holding a pad in her hands with a note (written possibly with a red marker or lipstick) that read "promote the pad" to make it look like a blood-stained pad in an attempt to destigmatize menstruation.
ALSO READ: PadMan movie review: Akshay Kumar's class act proves he is the ambassador of good hygiene — from Toilet to Pads
But her actions didn't go down well with millions of her followers on social media. They trolled the Race 2 actress and urged her to rather donate the pad to the needy instead of wasting it and falling for the film's marketing gimmick.
Users tried to tell the actress that the PadMan team had thrown the challenge just to promote their film, but it is doing nothing towards the social issue or women's empowerment.
"It's only drama and commercial no one cares shame on Bollywood for wasting so many pads which could have been used by someone else," an infuriated user commented on her post.
ALSO READ: PadMan movie review by audience: Akshay Kumar and Sonam Kapoor's performances win hearts
"You just wasted one pad and are urging others to do the same. I wish you had used some brains and promoted this campaign a bit more sensibly," another angry user said.
Akshay Kumar-starrer PadMan released on 2,750 screens in India and 600 overseas (worldwide total: 3,350 screens) on February 9.
The movie has opened to mixed reviews from critics and viewers alike. With no big release in competition, PadMan is expected to rake in some good moolah on the first day of its release.