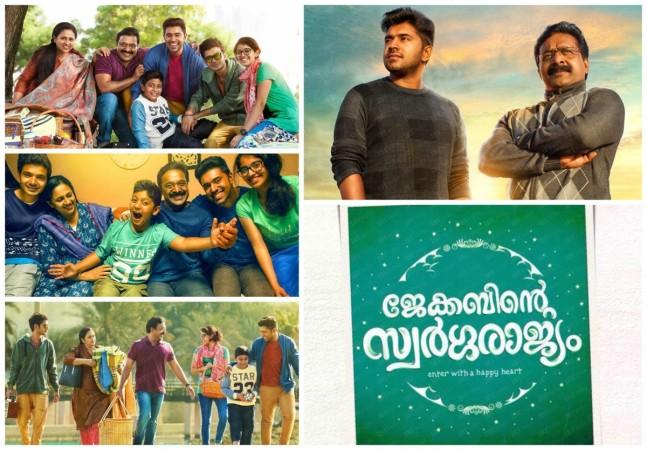 IBTimes India Rating: 4
Vineeth Sreenivasan's fourth directorial venture, "Jacobinte Swargarajyam" (JSR), will leave you feeling more attached to your family.
The movie revolves around an NRI businessman Jacob Zachariah (Renji Panicker), who is settled in Dubai with his wife Sherly (Lakshmy Ramakrishnan), and four children, Jerry (Nivin Pauly), Abin (Sreenath Bhasi), Ammu (Aima Sebastian) and Chris or Muthu (Stacen). The first half of the movie goes through some happy moments highlighting the closeness of the family, and the plot later moves on to show how they deal with a major financial crisis.
Although the movie is predictable, the beautiful moments we come across make us feel relaxed, eager to know how the movie progresses. The first half is totally a Renji Panicker show, while the second half belongs to Nivin as the hero.
Meet Gregory Jacob and real-life heroes of 'Jacobinte Swargarajyam'
As always, Renji Panicker has given a notable performance as a lovable family man and virtuous businessman, who dreams of achieving more and more in life. Initially, Nivin stays in his father's shadow as a good son, who observes in his business tactics. Later, due to certain circumstances, he rises like a phoenix to save his family from the financial crisis.
Lakshmy's performance as a strong mother needs a special mention, as her character is sure to inspire many women to be strong rather than complaining during the bad phase of their family.
While the dialogues exchanged between Sreenath and Chris were humorous, Aima impressed viewers as the only-girl child of the family. Debutant Ashwin Kumar as Murali has done a decent job and with his serious look, it seems like he was the best choice to replace Tamil filmmaker Gautham Vasudev Menon. TG Ravi, Sai Kumar and Dinesh Prabhakar have also acted well as struggling Malayalis in Dubai. The cameo appearances of a few others are worth mentioning, but let them remain as surprise characters for those who are yet to watch "JSR." However, Reba Monica John doesn't have much to do as the movie's heroine.
Shaan Rahman's music blends well with the situations of "JSR" and the three songs — "Dubai," "Ee Shishirakaalam" and "Thiruvaavaniraavu" — are the best compositions. While Jomon T John has to be appreciated for capturing the beauty of Dubai, Ranjan Abraham edited the frames crisply, making us fall in love with the movie and the characters.
Drawbacks
It was said that the movie would be released outside Kerala with English subtitles, but it was missing in the theatres in Bengaluru. Since the movie is narrated against the backdrop of the UAE, there were certain Arabic dialogues, which the audience couldn't follow.
Verdict
In a nutshell, "Jacobinte Swargarajyam" is truly touching and inspiring. Certain moments in the movie will bring tears if you are a family person.